Former Hamilton Accies coach wins sacking case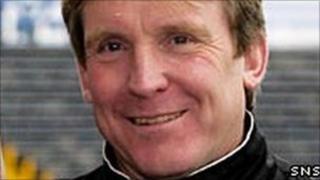 A football coach who was sacked for allegedly bullying young players and sexually harassing a female colleague has won a claim for wrongful dismissal.
John McCormack sued SPL side Hamilton Academical for £93,334 in damages after being dismissed for alleged gross misconduct in August 2008.
At the Court of Session in Edinburgh, judge Lord Woolman ruled that his conduct did not justify dismissal.
Further proceedings will be held to establish how much he is to receive.
The court heard how Mr McCormack, known as "Cowboy", was appointed as assistant manager to Billy Reid at the newly promoted New Douglas Park side in June 2008.
The former assistant manager, who lives in the Mount Vernon area of Glasgow, claimed he was appointed for a two-year term at £40,000 a year.
However, Lord Woolman said he preferred the evidence of club chairman Ronnie Macdonald that he had agreed a one-year contract.
Mr McCormack also denied making a comment to players in the presence of female physiotherapist, Jillian Galloway, about letting her see who had "the biggest tadger".
The football coach also rejected an allegation of intimidating and bullying young players at a pre-season tournament in Oban.
Reaching his judgement, Lord Woolman said he found Miss Galloway to be "a transparently honest and reliable witness".
He also rejected Mr McCormack's suggestion that she fabricated her account of him changing in front of her in the dressing room.
Commenting on claims of Mr McCormack's alleged "boorishly aggressive, foul-mouthed, ill-mannered" behaviour during a pre-season friendly in Oban, Lord Woolman said: "I have no hesitation in accepting that the coaching style of Mr McCormack did involve a great deal of aggressive shouting and swearing."
But he added it was the first time he was charge of a Hamilton side and was "simply a clash of styles".
Lawyers acting for Mr McCormack claimed there were no grounds for his summary dismissal and that he apologised for insensitive remarks made in front of Miss Galloway and there was no repeat of the behaviour.
The club maintained that he was lawfully dismissed for gross misconduct following a course of conduct.
'Curious feature'
Lord Woolman said Mr McCormack had been "candid about a number of matters about which he might have been expected to be reticent" but added that where there was conflict in the evidence he unhesitatingly preferred the evidence of the other witnesses to his testimony.
The judge said "a curious feature" of the case was the lack of documentation in the period leading up to dismissal, including no written warning, no report of any internal inquiry or minute of a board meeting deciding he should be dismissed.
Lord Woolman said the obligation of confidence and trust was a mutual one.
He added: "In my view, Hamilton itself was under a duty to keep the employee fully informed of any perceived deficiencies in his or her conduct during the course of a contract of employment. That did not occur here."