Help wanted for Tall Ships race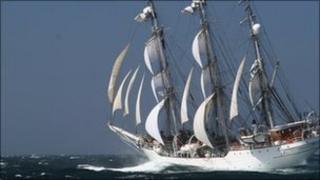 More than 200 volunteers are being sought for the Tall Ships Races in Greenock next year.
Organisers, Sail Inverclyde, wants to recruit people to act as liaison officers during the festival, which runs from 9 to 12 July.
The officers will support captains and crews with their local knowledge and make sure crews take part in the many social and sporting events.
They will also provide ships with assistance if technical problems arise.
Sail Inverclyde is looking for volunteers, aged between 18 and 75, to help out at the event.
Knowledge of the local area is important, as are sailing experience and language skills.
When Greenock last hosted the event in 1999, volunteers covered every European language from Finnish, Russian, and Norwegian to French and Italian.
Those accepted for next year's event will undergo "basic training" to help them deal with about 80 ships crews from around the world.
The racing itself is sailed in stages from Waterford, in Ireland, to Greenock, and then from Lerwick, in the Shetland Isles, to Stavanger, in Norway, and finally from Stavanger to Halmstad, in Sweden.
Ian MacKenzie, Commodore of the Royal Gourock Yacht Club, was chief liaison officer for the Cutty Sark Tall Ship race in 1999.
He said: "The 1999 event attracted solicitors, accountants, engineers, sail makers and joiners, bringing a wide range of skills and expertise to the event.
"It is important that the volunteers can communicate effectively with the crews to ensure that they feel welcome.
"If any problems arise, such as leaking hulls or engine repairs, it is the liaison officer that will be the guide to their solutions in the local area."