Pupil gets Obama reply after sending him school project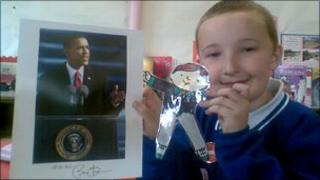 A Scots primary pupil was stunned to receive a letter from US President Barack Obama, after writing to him for a school project.
Robert Robertson, 8, from Renfrewshire, wrote to the president after being told to send his work to someone overseas.
He sent him Flat Stanley, a character from the children's book about a boy who is flattened by a notice board and posts himself around the world.
Obama replied, detailing what Stanley had been doing at the White House.
The president said: "Thank you for sending Flat Stanley to the White House. I am pleased to report that he worked hard, listened carefully, and had a lot of fun."
He added: "I was happy to have him join me on my daily activities."
'Ready to learn'
Obama told Robert Stanley had sat in on his Oval Office meetings and met the First Lady and the couple's daughters, Sasha and Malia.
"Flat Stanley was engaging, interested and showed up at the White House each morning with a pencil in hand, ready to learn. It was a pleasure having him here," he said.
"As I send him back to you, I urge you to bring that same thirst for knowledge to your classroom..."
The letter bore the presidential signature and included photographs of Obama and his family, and a leaflet about their dog, Bo.
Robert said he was now the toast of his classmates at Our Lady of Peace Primary, and has even been dubbed Obama.