From senior banker to Pirate Pete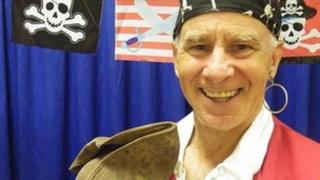 Gordon Dickson is dressed as a pirate, complete with massive earring and skull and crossbones head scarf.
He counts the children clustered round him in a room at a sports centre in Falkirk.
"One, two, five, nine, 12..."
The youngsters shriek with laughter.
One bright girl shouts out "you're doing it wrong."
It's all part of his act, as the bumbling Pirate Pete.
But the 62-year-old from Renfrew used to handle massive numbers, and complex financial arrangements, that would have baffled most people.
'A cautious person'
He was a senior risk and compliance officer at the Bank of Scotland.
He says: "My responsibilities were primarily to ensure that the bank adhered to all the rules and regulations.
"We ran a very tight ship. We would jump on anything. If there was anything untowards, we wouldn't touch it.
"You came in (to the bank) as a boy. You worked your way through the ranks. You learned the trade properly.
"You were a cautious person, because the people before you were cautious and you learned from them."
But Gordon admitted that things did go wrong.
"The whole mentality changed. We were no longer a bank that was providing a service," he said.
"We became a bank that wanted to sell to you - regardless of whether you wanted it. And the one thing it's very easy to sell is money."
He left the bank after 35 years, with about £1m worth of share options and investments.
But the financial collapse meant those savings are now worth hardly anything.
So Gordon is back working again, but this time as a children's' entertainer.
Pirate Pete is just one of his characters. He also performs as Whizzy Wizard and Mr Giggles.
But he doesn't see it as a big career change.
Childhood memories
"I'm doing what I always did as a banker - find out what people's needs and wants are, and satisfy that need at a price they can afford.
"That's what all businesses should be doing."
And he says he intends to carry on working for as long as the bookings keep coming.
"I know it sounds corny, but what I genuinely believe I'm doing is building childhood memories."
But, he said: "If the demand stops, then I'll stop doing it.
"I'll retire properly at that time. Put my feet up. Get the pipe out, if I smoked. And just smell the flowers, and watch the grass grow."