Police chief helps gangland trial perjurer escape jail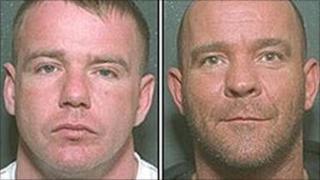 A vital witness who lied at a gangland murder trial has escaped jail because a senior police officer spoke up for him.
Judges were told sending John Corkish to prison for contempt of court could harm the witness protection scheme by deterring others from helping police.
Corkish, 46, who has a new identity and address, gave evidence against James MacDonald and Raymond Anderson in 2008.
They were jailed for 35 years each for gunning down underworld rival Michael Lyons, 21, in Glasgow in December 2006.
Two other men were left badly injured in the triple shooting at an MOT garage in the Lambhill area.
Anderson, 48, and McDonald, 37, were handed record jail terms by judge Lord Hardie when they were found guilty of murder - verdicts they are currently attempting to overturn.
Lord Hardie also found Corkish guilty of contempt of court because of the way he had initially given evidence and jailed him for a year in June last year.
During the first murder trial - which was later abandoned because of a jury problem - he failed to identify Anderson and lied during his evidence.
He spent almost two weeks in solitary confinement before he was released on bail to await the outcome of his challenge to the prison term.
And at the Court of Criminal Appeal in Edinburgh, Lord Osborne - sitting with Lords Carloway and Bonomy - allowed him to walk free.
Defence QC David Burns had presented the judges with a sworn statement from Assistant Chief Constable Gordon Rae, of Strathclyde Police, who had been involved in "intelligence gathering" after the shootings.
He said if Corkish was jailed it may deter other witnesses on the fringes of criminality from giving evidence in future gangland trials.
Lord Osborne, delivering the ruling, said the police officer's comments were "perhaps the most powerful consideration that has influenced our decision".
People "who may be in close proximity to the commission of serious crime" should not be deterred from speaking to police, he said.
The appeal judges heard Corkish had been told he would give his evidence from behind screens for his own protection, but "a failure in communication" meant he was questioned in open court.
Key evidence
The witness was also suffering from a number of medical problems and was taking medication for anxiety, depression, heart problems and diabetes.
During the second trial, Corkish - behind screens this time - accepted that when he gave evidence first time round he had perjured himself. He later gave key evidence.
The murder trial heard that Anderson and McDonald, masked and carrying handguns, walked into the Applerow Motors garage and shot three people.
Michael Lyons, the nephew of so-called crime chief Edward Lyons, died in the attack.
His cousin Steven Lyons, 27, was shot in the leg as he tried to flee and Robert Pickett, 42, was hit three times.