Glasgow taxi drivers in city council protest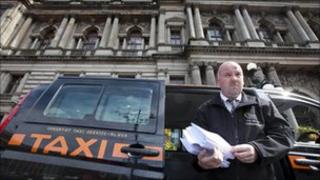 A Glasgow taxi firm has called on the city council to reverse a decision to award a schools transport contract to rival mini cab companies.
Staff at Glasgow Taxis have written to the council claiming some mini cab firms ferrying vulnerable children could fall short of required standards.
The firm also claimed the move could force 150 of its staff out of work.
The protest follows a council decision to hand more work to other firms, including Network Private Hire.
Recently it emerged Network Private Hire had successfully increased its share of a contract ferrying vulnerable children to and from school.
The move came only a few months after the council denied Network an operators licence after police argued it had links to organised crime.
Network is appealing the decision and is entitled to continue trading in the interim.
'Thoroughly examined'
About 1,750 letters of protest from Glasgow Taxis staff were delivered to Glasgow's councillors on Tuesday.
The protest letter expressed "concern and surprise at recent worrying developments" at the city council, which has streamlined the amount of school runs it funds from 2,000 to 1,400.
The letter said operators accepted the council had to obtain best value for money from its suppliers in the current economic climate.
But it called for other issues to be factored, such as the recent objections voiced by Strathclyde Police, to be considered.
The letter questioned "the selected taxi firm's suitability for such sensitive, publicly-funded contracts" and emphasised the requirement for Full Enhanced Disclosure Scotland approvals "for all registered drivers within that taxi firm's fleet".
It continued: "Many of the drivers used by the private hire firm to which the bulk of the work has now been allocated cannot possibly meet the criteria for a full Enhanced Disclosure Scotland Certificate".
However, a spokesman for Glasgow City Council said: "The huge financial challenges facing the council means we must spend the council's money with the greatest possible care.
"The use of taxis has been thoroughly examined and we have found we can reduce by 30% the number of trips to be made on a regular basis to support those with educational or social work needs."
He added: "We have well-established and robust contractual arrangements which we can't disregard on the basis of untested information."
Network's radio office licence was denied at a council licensing committee hearing in April after Strathclyde police argued that a former employee and shareholder who is a convicted criminal was still benefitting from the company.
Ch Insp Stuart Neil told the hearing that James Baxter - who has a series of spent criminal convictions, including a serious assault for which he served a prison term - had also been accused of intimidating witnesses and of being involved in a shooting incident, although he was not convicted.
Network's legal team admitted that Mr Baxter was still being paid money for shares he had sold to the company. The committee decided Mr Baxter was benefitting from the company and its licence was denied.
An appeal is due to be heard in November