Drumchapel Hospital ward closed after woman dies of bug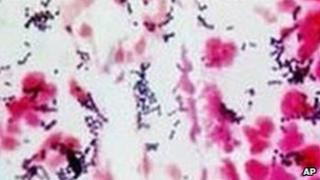 A hospital ward has been closed following an outbreak of a bacterial infection which claimed the life of an elderly woman patient.
The 86-year-old had Group A streptococcal (GAS) and died 10 days ago in Glasgow's Drumchapel Hospital.
Officials closed the ward where the woman, who had serious underlying health problems, had been.
Six patients and one member of staff are currently displaying mild symptoms and are responding well to treatment
All six patients are being nursed in isolation and the member of staff will remain at home until treatment is completed.
Other patients and members of staff have been swabbed and tested to see if they are carrying the infection.
GAS infections are caused by Streptococcus pyogenes, a bacterium that is commonly found on the skin or in the nose and throat.
It is involved in a range of conditions, from carrying the bug without symptoms, to a mild sore throat and more serious invasive infections such as infections of the bloodstream.
Dr Teresa Inkster, NHS Greater Glasgow and Clyde infection control doctor and chair of the Outbreak Control Team, said: "We would like to extend our deepest sympathies to the family of the patient who has sadly passed away.
"As soon as we became aware of an increased number of cases, the ward was closed and a range of additional infection control measures were put in place to limit any spread of infection.
"All patients affected are being nursed in isolation and have been put on a course of medication to treat the infection."