Council awards more work to controversial taxi firm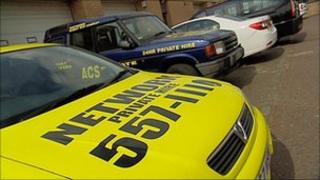 Glasgow City Council has given more work to a controversial private taxi firm, despite being in the process of trying to ban it.
BBC Scotland has learned that Network Private Hire has successfully increased its share of a contract ferrying vulnerable children to and from school.
In April, the council denied Network an operators licence after police argued it had links to crime.
The company is appealing the decision and is entitled to continue trading.
Glasgow Council has streamlined the amount of school runs it funds from 2000 to 1400, and invited taxi firms to bid for the work.
Glasgow Taxis, the main hackney operator who had the majority of the contract until now, is the biggest loser, being outbid on about 60% of its original share.
'Increased share'
Network and several other taxi firms including Southside cars will pick up a significant amount of the work.
Network was already on the council's list of preferred suppliers before the licensing committee's decision to deny its operators licence. But the decision to award extra work to the company took place recently.
A spokesman for Glasgow City Council confirmed that Network had increased its share, from 50 to 136 runs per day.
The spokesman said: "Network Private Hire has a contract to provide taxis for council business which predates the recent decision of the Licensing Committee to refuse a licence for their booking office.
"This decision is now subject to appeal and therefore Network Private Hire is legally entitled to continue trading while that appeal is pending."
Network's radio office licence was denied at a council licensing committee hearing in April after Strathclyde police argued that a former employee and shareholder who is a convicted criminal was still benefitting from the company.
Ch Insp Stuart Neil told the hearing that James Baxter - who has a series of spent criminal convictions, including a serious assault for which he served a prison term - had also been accused of intimidating witnesses and of being involved in a shooting incident, although he was not convicted.
Network's legal team admitted that Mr Baxter was still being paid money for shares he had sold to the company. The committee decided Mr Baxter was benefitting from the company and its licence was denied.
An appeal is due to be heard in November and Network is entitled to trade in the meantime.