Young Scot realises Bolshoi dream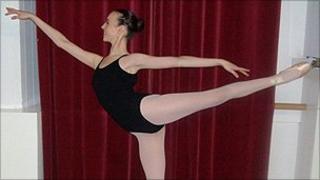 A Renfrewshire teenager who is the first Scot to win a place at Moscow's Bolshoi Ballet Academy has secured the funding to fulfil her dream.
Hayley Stobo, from Renfrew, said she was "ecstatic" that the Genesis Foundation had agreed to back her.
The 16-year-old is one of only a handful of British girls who have ever been picked to train at the academy in its 230-year history.
She will fly to Moscow next month to begin her three-year course.
Hayley began to dance at the age of two at the Elma White School of Dance in Paisley, Renfrewshire, and then did two years of classes with Scottish Ballet.
When she was 11 she was accepted to the Dance School of Scotland in Knightswood, Glasgow, where she trained for five years.
Hayley was offered a place at the Bolshoi after she sent tutors a 10-minute DVD of her performances.
The teenager was unsure if she would be able to pursue her dream, however, as she did not have funding and tuition fees alone cost around £13,000 a year.
Her mother wrote to hundreds of organisations asking for sponsorship before the Genesis Foundation stepped in.
Hayley, who has been learning Russian in preparation, said she cannot explain how grateful she is to the foundation for helping her achieve her dream.
She said: "I was absolutely ecstatic when I found out. I still don't think it's sunk in.
"I think when I'm on the plane that's when it will really hit me that I've started the next step in my training.
"I've always dreamed about becoming a ballet dancer from the age of two when I was put into ballet class, and to be given a place in such a prestigious school is such an honour."
'Amazing experience'
After her training in Moscow, Hayley could end up dancing anywhere in the world.
She added: "Wherever companies are, I will be auditioning. It will be amazing to experience different parts of the world and see how different training is. It is a career I can't wait to enjoy."
The Genesis Foundation is a UK-based charity which aims to nurture and develop emerging talents until they reach a point of sustainability.
It is also funding Natalie Carter from Watford, Hertfordshire, who has won a place on the Bolshoi's full diploma course.
John Studzinski, founder of the Genesis Foundation, said: "It is absolutely crucial that the exceptional talent of girls like Hayley and Natalie is recognised in order for them to gain the necessary support to become independent artists.
"The sheer dedication of such artists is amazing and we are delighted to see how their hard work and dedication has reaped rewards.
"For many young, aspiring artists it is incredibly difficult for them to fulfil their dreams without any assistance and we are very proud to see the Genesis Foundation's commitment pay off."