Glasgow Hilton Hotel sickness caused by norovirus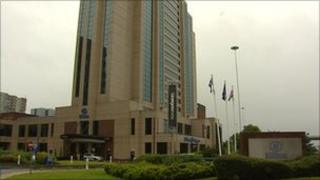 An outbreak of vomiting and diarrhoea at the Hilton Hotel in Glasgow was caused by the norovirus bug, health officials have confirmed.
NHS Greater Glasgow and Clyde (GGC) said a total of 83 people had shown symptoms since last Wednesday - 63 guests and 20 members of staff.
Two more people have shown symptoms in the last 24 hours but there are no longer symptomatic cases in the hotel.
Noroviruses are the most common cause of stomach bugs in the UK.
Dr Anne Scoular, NHS GGC public health consultant and chair of the outbreak control team, said: "Laboratory tests have now confirmed that this is a norovirus outbreak.
"We will continue to monitor the situation very closely but are seeing the number of cases decrease rapidly which is the norm with an outbreak of this type.
"Our advice to guests and staff in the hotel is to continue to follow strict hygiene rules including regular hand washing."