Thai drug smuggler in parole hope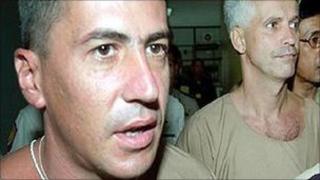 A drug smuggler who was returned to Britain to serve the remainder of a life sentence imposed in Thailand will be able to apply for parole next year.
Julian Gilbey, 42, originally from Sussex, was caught with heroin at Bangkok airport in October 2001.
He was returned to Scotland, where his parents live, in March to serve the balance of his sentence.
A Scots judge has now ruled that the punishment part of the sentence should be 10 years - dating back to 2001.
Gilbey, a former English language teacher, was convicted of smuggling 4kg of heroin after being arrested at Bangkok's Don Muang in October 2001.
A Dutch citizen and his girlfriend, a Thai woman, and two men from Nepal were also detained.
In September 2002, Gilbey was sentenced to death - but the Thai judge immediately commuted this to a life sentence on account of an earlier confession.
The 42-year-old was transferred to Barlinnie Prison in Glasgow in March to serve out the remainder of his sentence.
International arrangements
He was taken to Scotland on humanitarian grounds as all of his remaining family live in Rothesay, Isle of Bute.
The move was made possible under international arrangements such as the Repatriation of Prisoners Act 1984 and a related agreement between the United Kingdom and Thailand in 1990.
Under Scots law, however, Gilbert must be told the minimum term or punishment part of his sentence that he must serve before he can apply for parole.
Lord Emslie had to determine, for the first time in a Scottish court, whether the punishment part should be fixed along ordinary domestic lines or relate to the Thai life sentence.
The judge ruled that it should be considered in the context of the Thai sentence rather than as if the original offence, conviction and life sentence had all originated in Scotland.
Lord Emslie set a punishment part of 10 years, which applies from the original date of imprisonment in 2001.
This means Gilbert will be able to apply for parole from October 2011.
Speaking after the ruling, lawyer Simon White said his client was disappointed that he still had to serve time in prison.
He said they would now take time to digest the ruling before considering whether or not to appeal.