Bin collectors to strike during Edinburgh Festival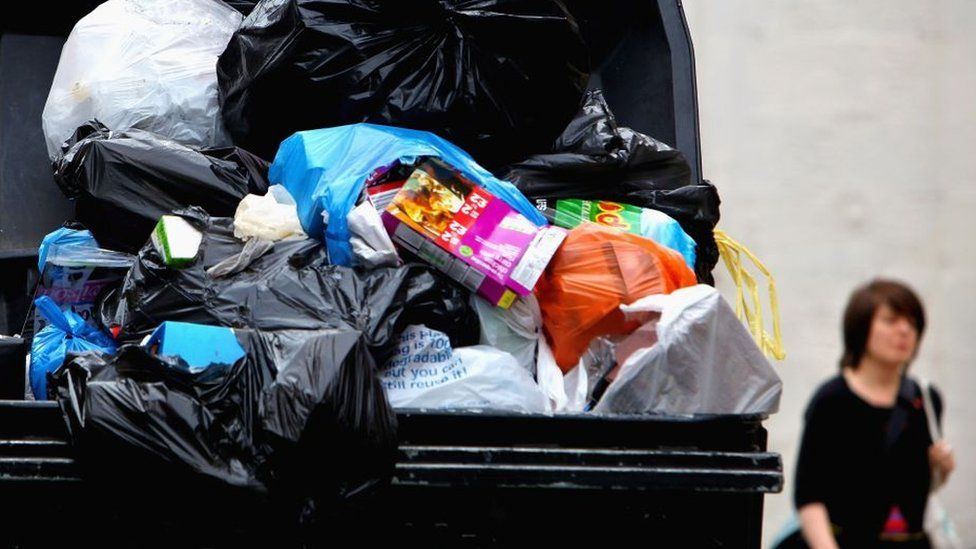 Bin collection workers are set to strike during the Edinburgh Festival, union leaders have announced.
Around 250 Unite members will walk out from 18 August until 30 August - the day after the end of Edinburgh's International and Fringe festivals.
The GMB union said its members in waste and recycling services would join them in the action in response to a "derisory" 2% council pay offer.
Further strike action to target schools is expected to begin in September.
The Edinburgh Festival will be held between 5 and 29 August. It is its first full programme of events since 2019.
Unite said workers in Edinburgh were participating in a first wave of strike action.
It said a second wave would follow in Aberdeen, Dundee and Glasgow as part of a "coordinated campaign" to persuade the Scottish government and local government body Cosla to make an improved pay offer.
Unite general secretary Sharon Graham said: "We believe the public will support our members in taking this stand, because no worker should be forced to accept a 'take it or leave it' real-terms pay cut.
"Our members simply have no choice but to take strike action in their fight for better jobs, pay and conditions."
Staff at schools, nurseries and waste and recycling centres took part in the ballot.
Unison, Unite and the GMB unions urged members to vote to strike after Finance Minister Kate Forbes refused an offer of "last-ditch talks".
GMB Scotland organiser Kirsten Muat said: "Waste will pile during the Edinburgh Festival unless a significantly improved pay offer for local government staff is tabled.
"When visitors from across the world ask why this is happening, the response will be straightforward: our members are not prepared for local services to be delivered on the backs of the working poor."
Cosla leaders are due to meet on Friday to discuss the pay offer. Unison is urging Cosla to agree a substantially improved deal.
Johanna Baxter, of Unison Scotland, said Cosla leaders and the Scottish government needed to "understand the seriousness" of this situation.
"The joint trade unions who represent local government workers have had extensive discussions to plan and coordinate industrial action cross Scotland," she said.
"If council leaders do not substantially improve their pay offer for local government workers, Unison along with Unite and the GMB will be notifying employers in the coming days of planned long-term disruptive strike action."
City of Edinburgh Council Leader, Cammy Day, said the council was doing all it could to minimise the impact of the strike on essential services.
He said: "While, of course, I hope agreement is reached swiftly, our crews deserve to be paid fairly for the work they do, and I once again call on the Scottish government to properly fund our capital city and its services."
Cosla has been contacted for a response.
The three big council unions have been working on how to maximise the impact of pay strikes. Unite has chosen its moment carefully.
It hopes the prospect of rubbish piling up in the streets during the Edinburgh Festival will focus minds on resolving the dispute.
Council pay is set nationally but there will be no national strikes as such. Unions hold a mandate for strikes in some, but not all, of Scotland's 32 council areas. The unions have been discussing how they can coordinate action.
The question is whether councils can improve the 2% pay offer. They've previously called on the Scottish government to give them money for a bigger pay rise.
In the rest of the UK, council workers have been offered a rise of £1,950 - equivalent to 10.5% for those on the lowest salaries.
This is still less than the unions want in Scotland but any offer below that figure is likely to be considered unacceptable by them.