Epic challenge for MND cyclist who has defied the odds
By Angie Brown
BBC Scotland News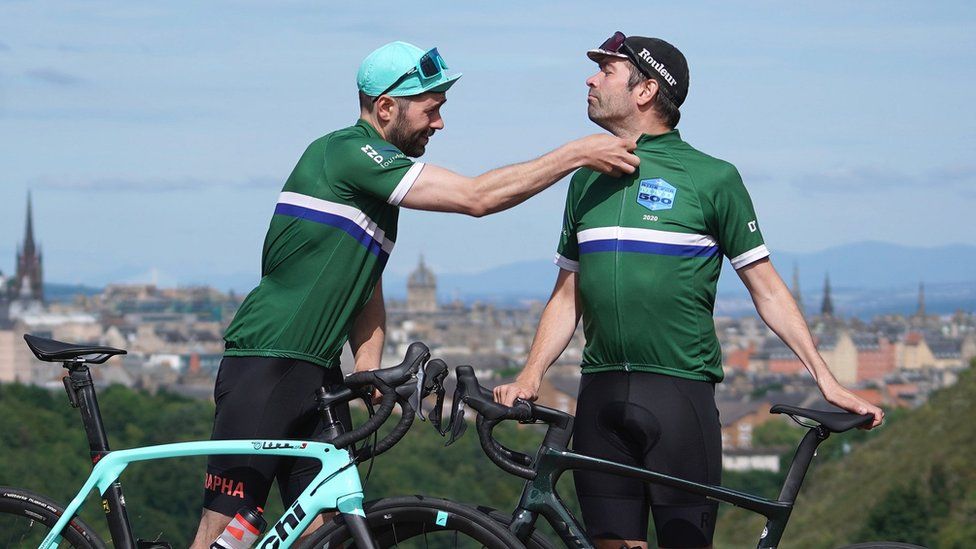 When he was diagnosed with motor neurone disease (MND) at the age of 30, Davy Zyw did not think he would still be alive four years later.
But next week the 34-year-old will attempt to complete a 260-mile continuous cycle along some of Scotland's highest roads.
"This challenge is difficult for a fit person let alone someone who has MND," he told BBC Scotland.
"I'm scared. It's a step into the unknown and I'm not sure how my body will react.
"I'm taking on a lot, but I'm excited."
Davy, from Edinburgh, said the route - which has been dubbed the High Five - would be a real test of endurance.
"This challenge has never been done before and I think only now am I coming to terms with the gravity of it," he said.
"My health is deteriorating, but I'm still cycling.
"I don't know how many more chances I'll have to do something like this again."
Davy had first noticed that something was wrong when his thumb stopped working while on a snowboarding holiday in Canada.
He was told it was probably carpal tunnel syndrome, but after further tests back home in the UK he was diagnosed with MND.
Davy had been working as a wine expert in London, so moved back to Edinburgh to be with his family.
He kept his condition secret for the first two years.
"I wanted to live my best life rather than shouting it from the rooftops," he said.
"By telling people, I would have to relive the diagnosis.
"But after two years I came out and now I'm turning this into a positive by deciding to do this cycle."
Davy said he was lucky to be in a position to take on the challenge.
"When I was first diagnosed I didn't think I'd be alive in four years," he said.
"The statistics show MND kills a third of people within a year, and more than half within two years of their diagnosis.
"I'm not dead yet, so every day is a good day. I want to make the most of every second I have.
"I'm getting worse so there is an urgency to do this now. Today is my best day, so I can't wait."
The father-of-one now has very little movement in his hands and little strength in his arms.
"My left hand, left arm, shoulders, and now my right arm are beginning to fail me," he said.
With his fingers now unable to operate regular gears, Davy will use an adapted bike with electric gears on the challenge.
He said the condition was like being under water, having less dexterity and less strength.
"This is the cruellest disease you can think of. It rewires your brain and changes your personality. Your muscles waste and you lose bodily functions.
"MND is incurable, degenerative and paralysing. It strips you of your nerve cells, which means your muscles waste away and can never be built up again.
"But I'm still full of life."
MND is a serious and complex condition affecting the brain and nerves.
Statistically, one in every 300 people will contract MND in their lifetime. It involves the progressive loss of bodily functions such as mobility, communication, swallowing and breathing, and eventually leads to death.
Life expectancy from diagnosis on average is around three years, but some can live for 10, and in very rare cases even longer - it depends on where in the body the disease appears.
While there are more than 400 people living with MND in Scotland, this is not because the disease is rare, it is because life expectancy after diagnosis is so short.
The High Five challenge will start on 11 August at Killin on Loch Tay and finish on the top of the Bealach na Ba, near Applecross in Wester Ross.
The route takes in the five highest passes in Scotland, at Ben Lawyers, Glenshee, Tomintoul, Cairngorm Mountain, and the Bealach na Ba and has more than 19,000ft of climbing.
Davy will be joined on the challenge by his twin brother Tommy Zyw, their 29-year-old brother Sorley Richardson, and a group of five friends.
"I'm so glad I'm doing this with my brothers and friends. There have been some dark times in recent years, and there will be some dark times on the bike, but they always lift me up with laughter," he said.
Davy, who still works as a wine expert and author, said he needed to train for up to 10 hours at a time for the challenge.
He said his wife Yvie had been "hugely supportive and understanding" of the preparation which was required.
Davy is raising money for the My Name'5 Doddie Foundation, which was set up by former rugby player Doddie Weir after he was diagnosed with MND in 2017.
The foundation's CEO, Jill Douglas, said: "Davy is an inspiration - I'm not sure people quite appreciate how unbelievable this challenge would be for anyone.
"Like Doddie, he is giving so much of his precious time to create hope and help raise funds that we hope will one day end MND."
Related Internet Links
The BBC is not responsible for the content of external sites.