Harry Potter: Forgotten signed copy of Chamber of Secrets sells for £3,750
By Joanne Macaulay
BBC Scotland news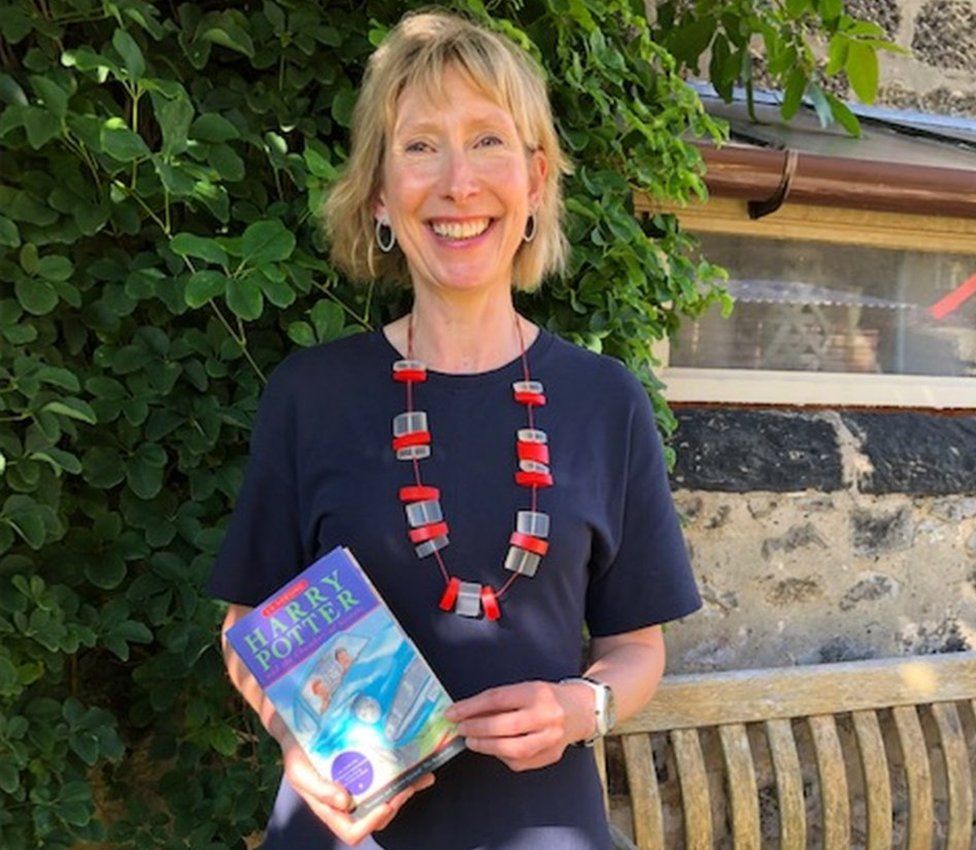 A woman who bought a Harry Potter book for £10.99 more than 20 years ago has now sold it for £3,750.
Sally Champion, who lives in Edinburgh, worked for a reading charity in London in the 1990s.
Author JK Rowling read extracts from her second Harry Potter book, the Chamber of Secrets, at an event Sally organised and signed a copy for her.
She told BBC Scotland she'd largely forgotten about it until she saw a similar one valued on television.
It has now been sold to a collector in the north of England and Sally is giving her unexpected windfall to charity.
In 1998, Sally was working for the National Literacy Trust and organised an event in a bookshop for children from disadvantaged communities.
Harry Potter and The Chamber of Secrets had just been published in the UK, and Rowling was there to read extracts from it.
Sally said: "She was quite tired because she'd been up late as she'd just won the Smarties book prize the night before.
"She was just really easy to work with - really relaxed. She wasn't super famous at that time but the momentum was already under way in children's books around her. "
Sally bought a first edition hardback copy of the book for £10.99 and asked the author to sign and inscribe it, which she did.
The book stayed in Sally's possession through the next two decades and house moves, including to Edinburgh where she lives now.
It sat on bookshelves for many years, and while Sally's family were Harry Potter fans, they read the paperback versions, leaving this one in pristine condition.
Then while watching a recent episode of The Antiques Roadshow, Sally was reminded of the book.
She explained: "A young woman was featured with her signed Harry Potter book and I was amazed to find that it was worth some money."
Sally did some research on her copy and found out it was a first print run, first edition, and the personal inscription added more value.
Adam Houston, an expert on JK Rowling signatures and a Potter fan himself, acquired the book from Sally, on behalf of another collector, for £3,750.
"It's believed there are only around 10,000 of these books printed, and only a small number of these were signed and inscribed by Jo, said Mr Houston.
"And what's particularly special about this book is that it was signed and inscribed in the year it came out as well. "
But Sally is not splashing out on herself with the money. Instead she is giving it to a team of rowers from Edinburgh, who are going to cross the Atlantic unaided to raise funds for two children's mental health charities.
The five-man team, Atlantic Body and Soul, is supporting the Edinburgh-based organisation The Junction, and Body and Soul in London.
One of the rowers, actor Cal MacAninch, told BBC Scotland: "It's really generous of Sally to give us this money.
"One of the reasons we are rowing the Atlantic is to inspire young people and if we could inspire young people in any way like JK Rowling that would be incredible.
"So to get several thousand pounds from one of her books to boost us to go and help young people's mental health is incredible. "
Sally added: "It felt kind of magic in its own right - this quiet book that had done nothing for 24 years suddenly became more valuable.
"It's money I didn't have before and didn't expect so I decided to donate it to the Atlantic row."
Sally said she liked the fact that the process began at an event for children from disadvantaged communities, and two and a half decades later, the proceeds will go towards helping children and young people again.