Edinburgh Fringe unveils 75th anniversary line-up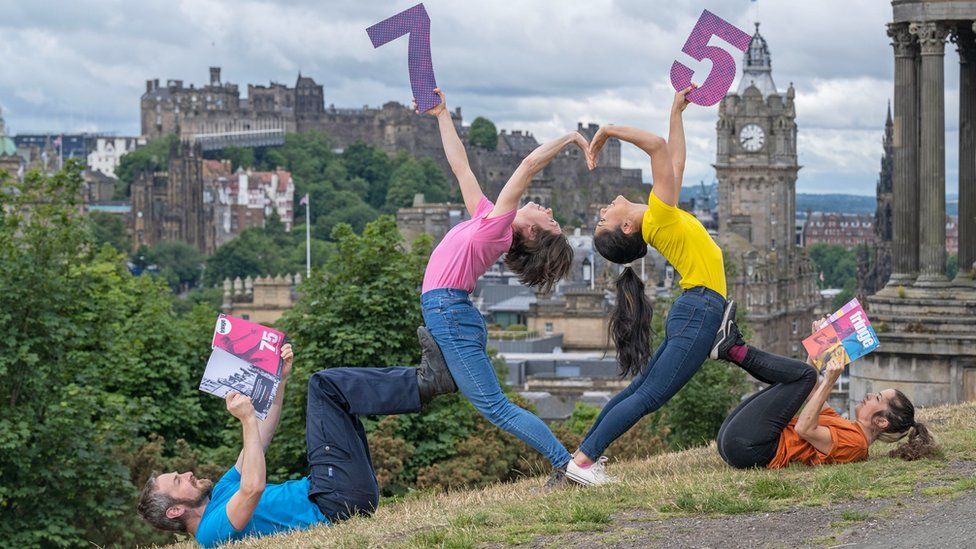 Edinburgh Festival Fringe has unveiled it full programme of events to mark its 75th anniversary.
It will see 49,827 performances of 3,171 shows, with acts from 58 countries.
The festival will be held between 5 and 29 August. It is the first full programme of events since 2019.
The line-up includes comedians Frankie Boyle, Stewart Lee, Frank Skinner, Al Murray, Josie Long, Phil Wang, Reginald D Hunter and Nish Kumar.
Other big names include actor Sir Ian McKellen, who is starring in a new production of Hamlet, Drag Race stars Bianca Del Rio and Jinkx Monsoon, and quizzer and comedian Paul Sinha.
This year Fringe Street Events will be extended to new locations in St Andrew Square and St James Quarter.
Organisers said issues tackled this year will include refugees, race, women's safety, disability, mental health and climate change.
Edinburgh's Fringe, the International Festival, the book, art and film festivals all went ahead last year - but Covid restrictions meant crowds were smaller than past years.
Shona McCarthy, chief executive of the Edinburgh Festival Fringe Society, said: "As a festival which offers anyone a stage and everyone a seat, we can't wait to welcome artists, writers, staff, crew, venues, producers, creatives, residents and audience members together this August, after two years of uncertainty and reinvention.
"Venues, producers and artists have created an amazing array of performances and events which dig into some of the most topical themes being discussed in the world today."
Culture Minister Neil Gray said: "It's fantastic to see the Fringe unveiling such a varied and exciting programme for its 75th anniversary celebrations this year.
"Over the decades the Fringe has been pivotal in shaping and promoting our cultural identity on an international stage."
City of Edinburgh Council leader, Cammy Day, said the programme would "impress, entertain and educate audiences of all ages".
It's been a tough couple of years for the Edinburgh Festivals. From the wilderness of 2020 when the world was still in lockdown, to the small but defiant display of outdoor shows which took place in 2021.
No one knew quite what to expect from 2022. Would artists want to return? To the challenge of a pandemic add Brexit, transport disruption, conflict, the cost of living and political uncertainty.
And yet, they've signed up in their thousands - 3,171 shows with nearly 50,000 performances. That's about 80 per cent of the number from 2019. No bad thing for a city that felt like it was creaking under the weight of its many festivals.
The Fringe Society pledged to "give everyone a stage, everyone a seat" - and delayed registration for the 2022 event to allow as many as possible to take up the offer.
But it's not been without controversy. Performers, agents, producers and promoters signed an open letter complaining that they paid for services that will not be available - in particular a phone app that promotes imminent shows.
The Fringe says it didn't have the resources to complete the app in time.
"We're a small charity, still operating with a depleted team, and on a limited budget," says Shona McCarthy, of the Fringe Society.
"It's impossible to deliver everything and we apologise. We hope the app will be available in 2023."
Many of the complaints are city-wide and not in the fringe society's gift. But Ms McCarthy says they continue to lobby for better transport links and for cheaper accommodation.
They've been able to secure 1200 rooms capped at £285 a week. But she admits there's more to be done as the Fringe recovers.
So we know the performers are coming, but what about audiences?
Are we ready to embrace the world's largest arts festival after a two year absence? We'll have to wait another few weeks to find out.
Related Internet Links
The BBC is not responsible for the content of external sites.