'He shouldn't have to be this brave at six years old'
By Angie Brown
BBC Scotland News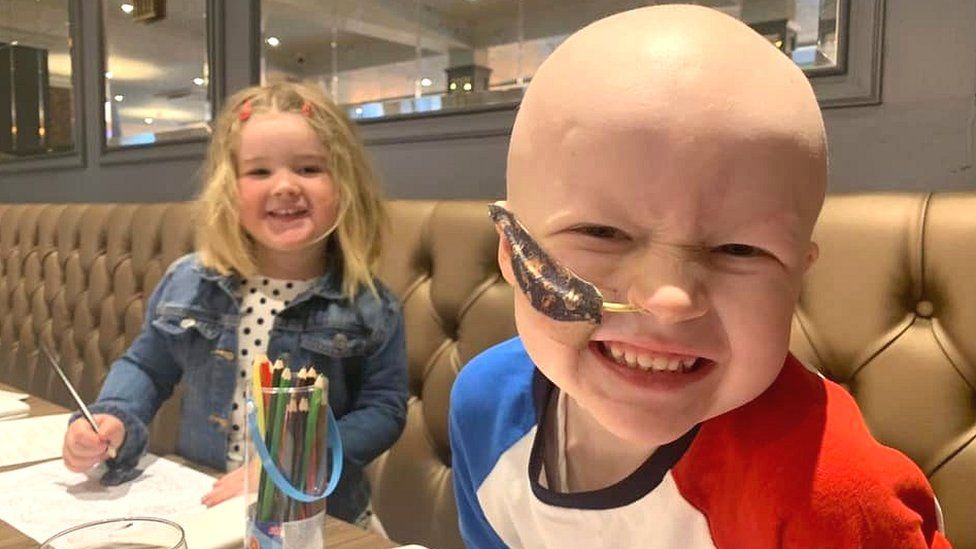 When five-year-old Mason McKenzie became lethargic, his lips and gums went white and he started complaining of a sore tummy, his grandmother took him to hospital.
"Within an hour I was given the worst news I've ever had in my life," said his granny, Angie McKenzie.
Mason had Acute Lymphoblastic Leukaemia and needed to be admitted to hospital straight away.
He was given a a blood transfusion, which was the start of gruelling and painful cancer treatments at the Royal Hospital for Sick Children in Edinburgh.
That was 12 months ago, and the six-year-old has now been given the all clear - although he must stay on the programme, which includes chemotherapy, until December 2023.
Angie, 60, told BBC Scotland: "At first Mason coped well but as time has gone on, he has become anxious and upset at the thought of the procedures, which he finds quite traumatic.
"It's hard for him to understand what is happening with the needles and the medicines and upsetting for us to see him going through it.
"The whole experience has turned our world upside down."
Angie said Mason had become quite isolated.
"He didn't interact with children for eight months as he was living between the hospital and home, so it's very lonely for him," she said.
"He would say he didn't like what was happening and that he didn't like his life."
Mason was due to start school last year but missed out on beginning primary one. He joined the class after Easter this year, but had to return to hospital a week later for treatment before he got a virus that turned into an infection.
"All of this has really knocked his confidence. I look around the playground at all the kids running about without a care in the world and I feel so sad for him," Angie said.
"He keeps a lot to himself and doesn't want to speak about it, I think he doesn't know how. He's too little to understand.
"Suddenly he had nobody to play with and he's on serious drugs so has no energy to go to school.
"He shouldn't have to be this brave at six years old."
Mason has treatment every two weeks at hospital. Some treatments involve having a general anaesthetic to have chemotherapy put into his spine, others are infusions while he is awake.
Angie said: "I don't tell him now before bed that he has hospital the next day because it makes him upset. He's miserable and says he doesn't want to go.
"It has been devastating, it stops you in your tracks. It's the worst thing that has ever happened in our lives.
"You feel desperate for them and you can't make it any better, you just have to hold their hand."
Childhood acute lymphoblastic leukaemia is the most common type of childhood blood cancer.
The bone marrow makes too many immature lymphocytes, a type of white blood cell. Leukaemia can affect red blood cells, white blood cells, and platelets.
"It is important the things they do. It's made all the difference," she said.
"He loves when the dancers come to his bedside and he has found the music really lovely."
Pippa Johnston, director at Edinburgh Children's Hospital Charity, said it provided a variety of entertainment and distractions for children at their bedside.
"Mason and his family are inspirational and have shown so much strength and resilience through an unimaginably difficult time," she said.
"We know how lonely it can be for children like Mason who have long-term health conditions."
Related Internet Links
The BBC is not responsible for the content of external sites.