Queen appears at armed forces parade in Edinburgh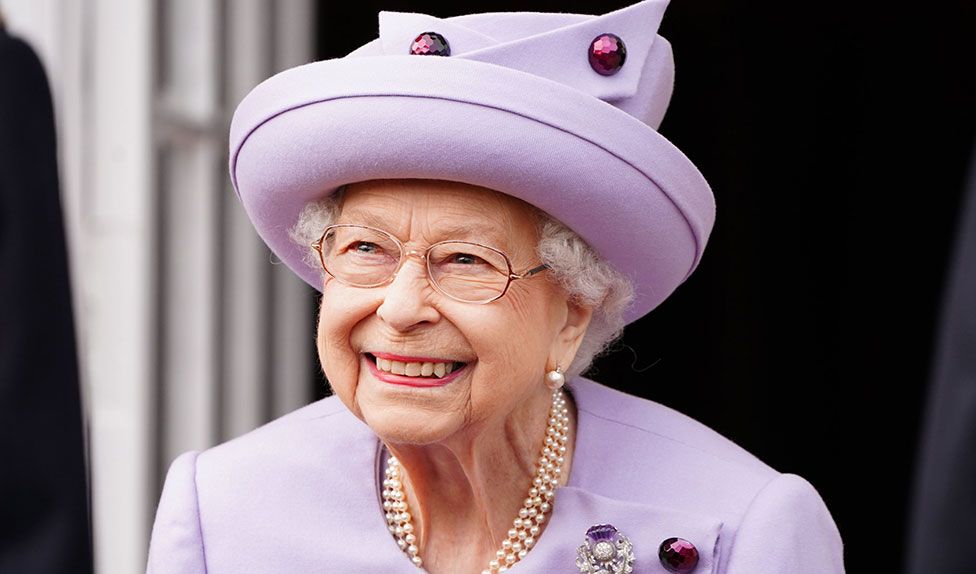 The Queen has attended a parade of the armed forces in Edinburgh in her second public appearance in two days.
The act of loyalty parade at the Palace of Holyroodhouse marked her Platinum Jubilee in Scotland.
She was also presented with the key to Edinburgh Castle in the gardens of the palace.
The 96-year-old monarch arrived in Scotland with members of her family on Monday for the start of a week of royal events north of the border.
It was her first appearance in public since the Platinum Jubilee celebrations, as she has been cutting back on engagements due to mobility issues.
She has pledged to continue to serve the country "to the best of my abilities with the help of my family".
The parade and the presentation of the key to Edinburgh Castle marks the 200th anniversary of King George IV's visit to Scotland in 1822 when the castle key was presented to the sovereign for the first time.
Buckingham Palace said Tuesday's event was also an opportunity for the three armed forces - the Army, Royal Navy and Royal Air Force - to mark the Queen's Jubilee in Scotland.
A royal salute took place as the Queen arrived in the gardens, before the Lord Lyon, King of Arms, presented three senior representatives from the services to the Queen.
He offered the key to the Queen, before she returned it to the governor's safekeeping "in gratitude for the symbolic act of loyalty of our armed forces".
Speaking afterwards, Maj Gen Bruce said the Queen was on "first class, sparkling form".
"The fact that she wanted to take in part in both the arrival ceremony and now she's here in her palace in the centre of Edinburgh and coming out into the garden to see her armed forces is really special," he added.
The Queen is expected to be in residence at the Palace of Holyroodhouse - her official residence in Edinburgh - until 1 July.
On Tuesday afternoon, the Princess Royal will present honours in an investiture ceremony at the palace.
Among those to be recognised will be James McGoldrick, the assistant general secretary of the United Nations, and Ross McEwan, the chief executive of the Royal Bank of Scotland.