Former pupil secures £400,000 settlement from Fettes College over abuse claims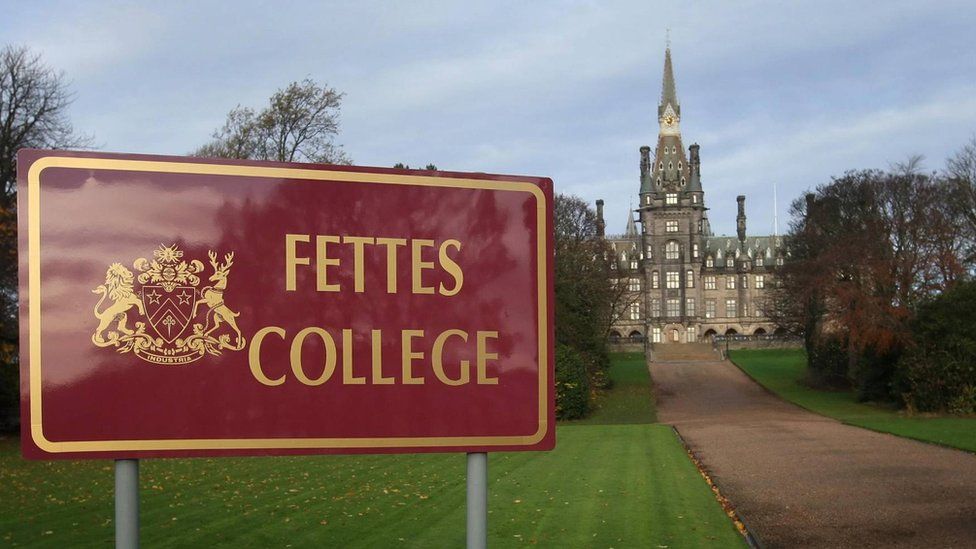 A former pupil of Fettes College has secured a settlement of £400,000 from the school after alleging he was abused by a teacher.
In evidence to the Scottish Child Abuse Inquiry, the man known as Frank claimed he was beaten and sexually abused at the Edinburgh school.
Fettes has previously offered a "full and unreserved apology" to those who suffered abuse while at the school.
Following the payment, the man said: "It has never been about the money".
"Fettes had the opportunity back in 2005 to do the right thing but they tried to bury things rather than do right by the pupils who were in their care," he added.
BBC Scotland has approached Fettes College for a response.
Frank attended Fettes Junior School and Fettes College as a day student between 1975 and 1981.
He claims he was repeatedly sexually abused and physically assaulted in a classroom by the teacher.
Describing the teacher as "brazen and sick", he said: "He'd molest me while I stood at his desk as he marked my class work and one day when I was kept back at end of class he pinned me against a door frame and assaulted me."
The man and his mother reported the final and worst sexual assault to the school at the time, but say the teacher was given a one-month sabbatical before being reinstated.
Suffering from PTSD, flashbacks and depression, he reported the abuse again in the mid-2000s to police as well as the school but no action was taken.
He recalled being devastated by the response from each.
"They both basically told me 'What do you want us to do about it?'," he said.
Frank instead pursued a civil legal action against the Governors of the Fettes Trust, which manages the school, and his case has now settled out of court for the six-figure sum.
"I know I am not the only survivor of abuse at Fettes and I don't believe my attacker was the only teacher," he said.
Kim Leslie, a partner at Digby Brown Solicitors, led the legal action against the trust.
She said: "Frank's strength in speaking out is matched only by his strength in taking those responsible to court.
"Many abuse cases have been raised against Fettes but I believe Frank's victory is the first that's publicly known to be successful so I hope survivors may take hope from this result as they consider their own route to justice to get the damages and recognition they deserve."
Last year Fettes College was among several schools which offered apologies at the Scottish Child Abuse Inquiry.
Speaking on its behalf, advocate Jonathan Brodie QC said the school wanted to make "a full and unreserved apology to those who have suffered abuse whilst at Fettes".
He said: "Fettes accepts and recognises that in the past there have been occasions of sexual abuse, physical abuse and emotional abuse."
It is understood that an 82-year-old man is subject to Crown Office proceedings in relation to allegations of abuse at Fettes College.
Last August BBC Scotland learned prosecutors were pursuing legal action to extradite the suspect from South Africa to Scotland to face trial.
It came after a group of former Fettes junior school pupils were told it was "not in the public interest to prosecute".