Europa League: 'Living dad's dream to see Rangers in a final again'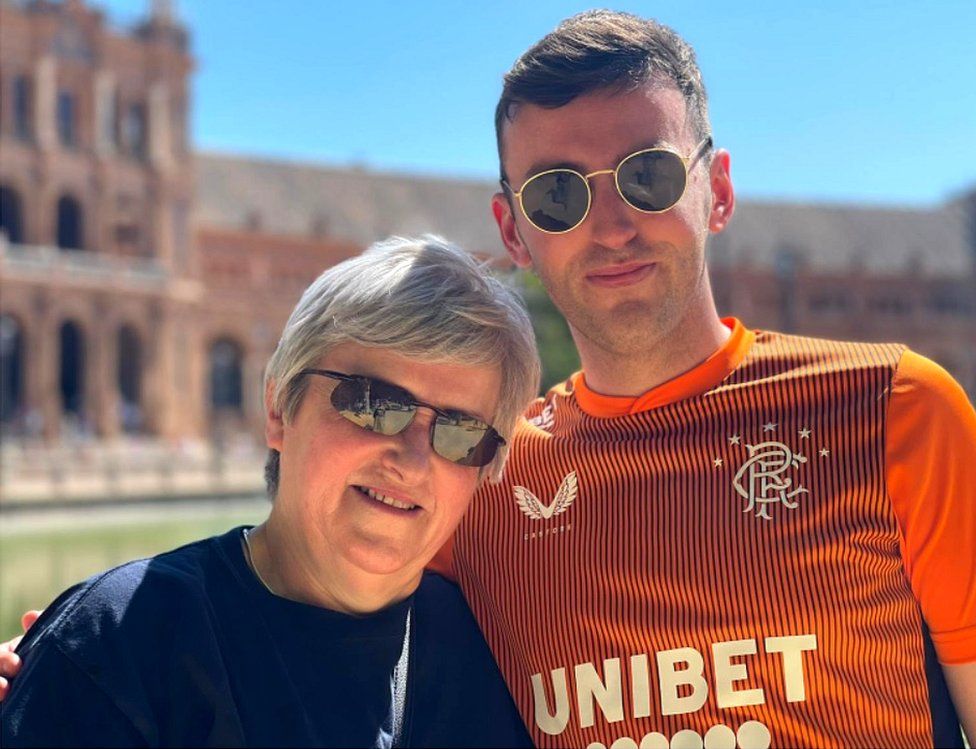 For Karen and Stewart Robertson from Fife, Seville has already created emotional new memories.
The mother and son from Glenrothes are following in the footsteps of their much-missed husband and dad Brian Robertson.
Rangers fan Brian went to Spain in 1972 to see the Gers crowned champions at the European Cup Winners' Cup.
He died in 2020 and Stewart and Karen have made the trip for him. They even brought his Rangers scarf.
They were hoping to witness another glittering Spanish night in their team's history, 50 years on from the night that belonged to the Barcelona Bears.
Stewart told BBC Scotland: "I lost my dad during Covid and he was a massive Rangers supporter. Rangers has been a big thing in our lives."
Brian died from a heart attack at the start of the pandemic. It was a tough time for the family but their shared love of football helped them through.
Karen said: "When we lost my husband, we had nobody at the funeral, there were only five of us there."
Stewart added: "It was during the first lockdown so we couldn't see family and loved ones so it was hard. Rangers was a bit of an escape from a lot of things for us."
The mum and son arrived in Seville on Monday after a 20-hour journey via London.
They have been soaking up the atmosphere, while thinking of Brian.
Stewart said it was a moment in the club's history that they could not have missed.
"We were in New York last week for a family holiday," said Stewart. "We watched the Leipzig game and just booked up straight after it.
"The hotel price was crazy - we looked before the game and then after it, it was £700 or £800 more."
Karen added: "We just said it's what his dad would have wanted. It was his dream to come to a final again. He had seen it in 1972 so we are doing it for him as well as for us."
Brian had always told his son that if he ever got the chance to see their beloved team in a European Final, they had to go.
"We weren't missing it," said Stewart. "But there is a bit of mixed emotions because he should be here.
"But we want to do it for him."
The pair brought Brian's Rangers scarf with them to Seville.
The same scarf has been with them to several matches in this season's Europa League campaign. They took it to games against Borussia Dortmund and Sporting Braga.
Karen said: "It's come to all the group stages we've been at and it's bringing luck to us. And that's what is hopefully going to happen on Wednesday."
Karen and Stewart had no got tickets for the game, but were planning to watch in one of Seville's fan zones.
Stewart said they would be thinking of Brian the whole time.
"We are here in Seville and one last push will get the team back to the top again," he said. "The memories so far have been incredible."