I may not have long to live but I want children
By Angie Brown
BBC Scotland News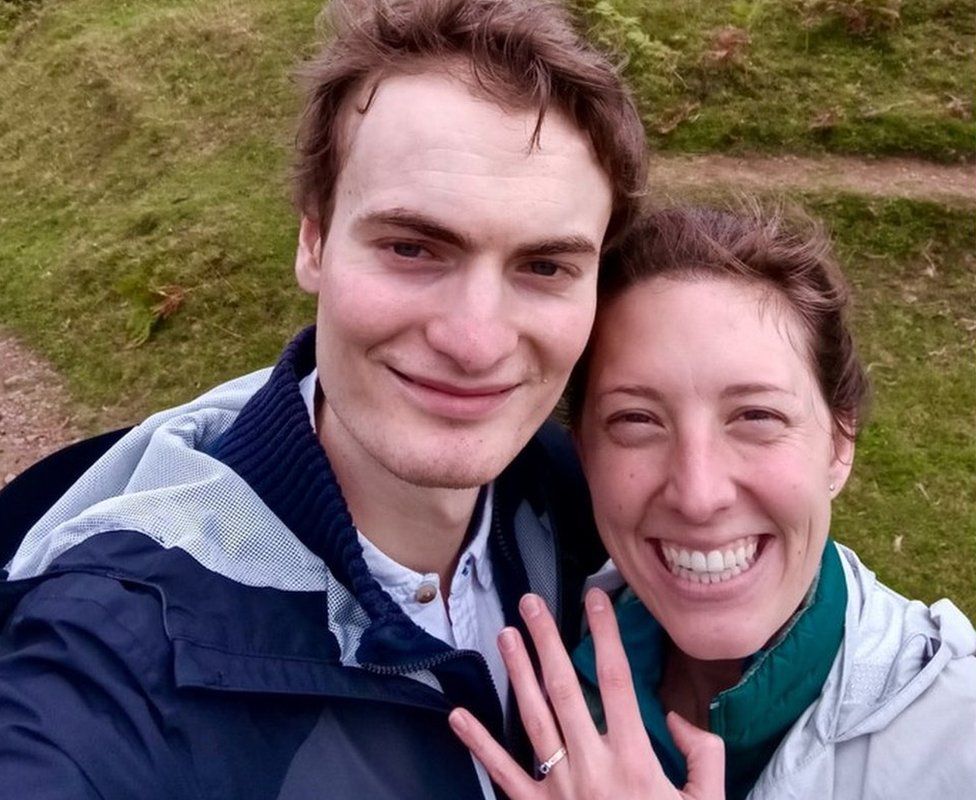 Ewan Bowlby was just 17 years old when doctors found a tumour in his brain following months of seizures.
Ten years later, despite many operations and chemotherapy, the cancerous tumour has returned and he may now not have long to live.
But the St Andrews University PhD student is set to get married to fiancee Karlee Lillywhite - and they plan to have children.
"It's what's keeping us excited and hopeful," says Ewan.
"I want kids because I'm one of three and I really like it."
Ewan was given the news in January that he now has a grade four tumour, which is much more aggressive than the benign tumours he had removed previously.
He and fellow student Karlee, 30, are due to marry in St Andrews later this month. The couple met about a year ago in a Zoom tutorial class.
They plan to move to Edinburgh, where they hope to start a family. Ewan's sperm was frozen before he started his treatment.
"I may not have long to live, the future isn't certain and my time could be increasingly short," said Ewan.
Karlee, who is originally from Folsom in California, told BBC Scotland she was prepared.
"It is frightening to think about being left with kids on my own.
"However, I've had a few personal struggles before this which have made me see the instability of life. I also have incredible support from family and friends.
"I am a planner, but I've now come to accept I can't prepare for everything and that sometimes you have to play it by ear."
Ewan proposed at the Fairy Glen in Skye in September last year.
"We formed a very strong bond very quickly because we spent a lot of time talking to each other. We didn't see the point in waiting to get engaged when we felt so strongly about wanting to spend the rest of our lives together," he said.
Ewan had another relationship from his school days and throughout his time studying theology at Cambridge University.
"I ended it after many years because it didn't feel right to involve someone else, when I didn't know if I would be alive for much longer to offer marriage and kids.
"Things are different now though with Karlee because I've learned to be vulnerable, to tell people about my illness, so she knew from the start. She accepted it and was happy to stay with me."
Ewan, who is originally from Oxford in England, had seizures for nine months before doctors discovered he had a grade two astrocytoma on his right frontal cortex.
Despite having several brain operations, including one just three months before his A-Level exams, he got A grades and made it to university.
"I felt like I was back on track with my life and was very excited to go to university."
But a year into university he started becoming exhausted. His mood was low and he developed anxiety.
"The after-effects of surgery can take a long time to develop," he said.
"I kept ploughing on with my studies in second and third year but I spent a lot of time indoors by myself and not socialising. It was very hard."
He applied to do a masters at St Andrews University but had to postpone it when a routine brain scan discovered his tumour had grown back.
They had to do open brain surgery while he was awake.
"I had my head screwed into a metal frame for five hours so I didn't move.
"I was awake so they could ask me to do things such as speak and blink so they could see whether tissue was the tumour or my brain," he said.
They sent some of the tumour off for analysis and that is when they found out it was cancerous.
He felt well for three years and started a PhD in the emotional and psychological care of cancer patients.
However, a scan found the tumour had grown again in January.
He is now on another round of chemotherapy.
He has been going to the men's group at Maggie's charity cancer care centre in Dundee to help with his anxiety.
"It's a great way to meet people who are in the same situation. The companionship and support is what has really helped me to come to terms with my situation."
Karen MacKinnon, the head of Maggie's Dundee Centre, said living with uncertainty was one of the hardest aspects of living with cancer.
"It can be so difficult to make plans and think about the future when facing the unknown or knowing that time is limited," she said.
"Many people - both those with cancer and those looking after someone with cancer - can also experience extreme stress, fear and anxiety when thinking about what the future might hold."
The centre is running a new campaign to highlight the support it offers to both the person and their family and friends.
Related Internet Links
The BBC is not responsible for the content of external sites.