Family anger over death of new mum lost in hospital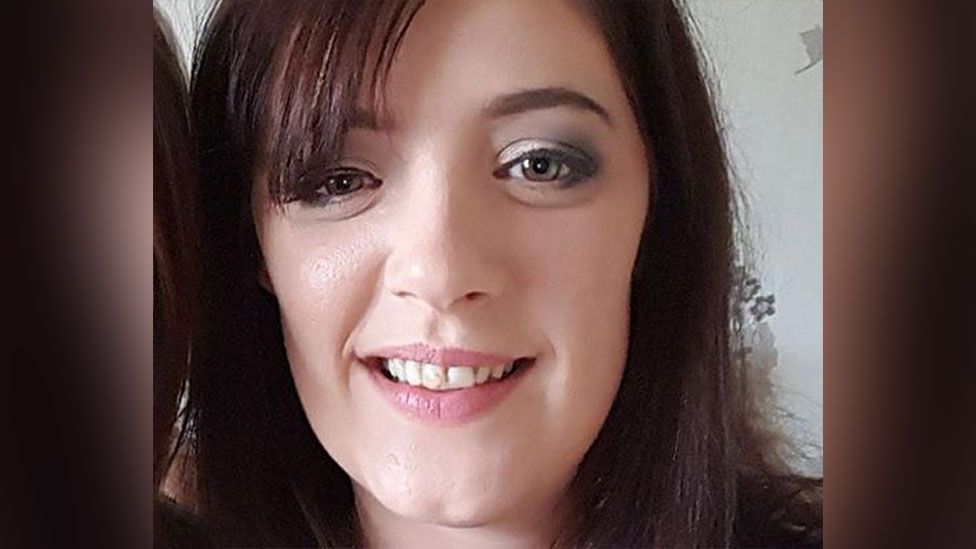 A new mother lost in a hospital may not have died in such tragic circumstances if "basic, common sense measures" had been in place, her family have said.
Amanda Cox, 34, was found unresponsive in a stairwell five hours after going missing from a maternity ward at Edinburgh Royal Infirmary in 2018.
Following an investigation into her death, NHS Lothian said signs and CCTV had been improved.
Her husband criticised the health board for a "catalogue of errors".
It came as the Crown Office confirmed that Ms Cox's death would not be subject to a fatal accident inquiry.
Ms Cox, who was from Peebles in the Scottish Borders, became disorientated after visiting her newborn son in the neonatal unit on 10 December 2018.
The alarm was raised when she failed to return to the maternity ward.
She was found in a stairwell at the other end of the hospital, after mistakenly leaving the neonatal unit by a fire door. She died a short time later.
It was reported at the time of her death that she had been suffering headaches since before the birth of her son.
Development of national guidance on the management of headache in pregnancy
Better continuity of care for women with complex pregnancies
Barriers and "talking signs" at stairwells advising against unauthorised access
Signage between neonatal and post natal wards improved
60 more CCTV cameras installed, focussing on stairwells, corridors and fire doors.
Fire door signs have been improved
Review of missing person and search protocols.
Dr Tracey Gillies, medical director of NHS Lothian, also apologised that Ms Cox died in their care.
"The death of Mrs Cox was a deeply tragic occurrence and our sincere condolences remain with her family," she added.
However the family of Ms Cox, including her husband, Michael, said the publication of the new safety measures came "three years too late".
"Had these basic, common sense measures been in place then Amanda would not have lost her life in the tragic circumstances she did," the family said in a statement published by Marina Urie, of Thompsons Solicitors.
"Amanda was a beautiful, caring person and a wonderful wife. She had just become a mother to our son. She did not deserve such a catalogue of errors in her care from NHS Lothian.
"The statement today from the health board barely mentions her and is very cold and unfeeling.
"We just hope that because of Amanda's tragic death no other family has to go through the horror that our family has."
Meanwhile, the Crown Office said a fatal accident inquiry into Ms Cox's death would not be in the public interest.
It said the purpose of an FAI was to determine the cause of death and establish what lessons could be learned to minimise the risk of future deaths in similar circumstances.
Crown Counsel are satisfied that the reasons for her death have been established and lessons have been learned, they added.
Katrina Parkes, head of the Scottish fatalities investigation unit of COPFS, said: "The decision not to hold a fatal accident inquiry has been taken in consultation with Amanda Cox's family, who have suffered a terrible loss, and I would like to thank them for their patience and co-operation.
"NHS Lothian have provided assurance that significant changes have been made since Amanda's death and I sincerely hope the lessons learned will help prevent similar deaths in the future."
Local MSP Christine Grahame said the NHS report "must not lie on a shelf gathering dust".
She said: "Every NHS board should look at these recommendations - increased CCTV, better security, checking on mothers-to-be that have headaches.
"These are basics and they must never never be overlooked again."