PM gifts photo of Edinburgh anti-slavery mural to Biden
By Angie Brown
BBC Scotland, Edinburgh and East reporter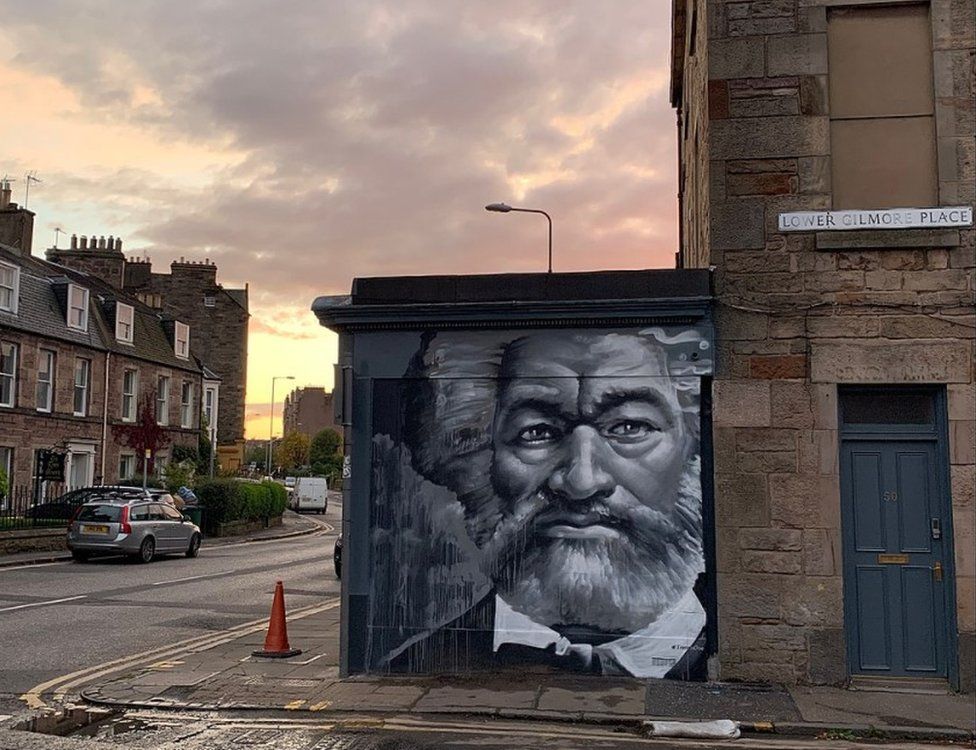 Boris Johnson gave US President Joe Biden a framed photograph of a mural of a 19th Century anti-slavery campaigner to mark their first meeting.
The image of Frederick Douglass, a former slave who became a leading figure in the abolitionist movement, is part of Edinburgh's BLM mural trail.
Mr Biden met the prime minister in Cornwall on his first overseas visit since entering the White House.
They are among world leaders meeting for the G7 summit in Carbis Bay.
The image of Frederick Douglass was painted by Ross Blair and the photograph was taken by Melissa Highton - a UK-US dual national.
Mr Blair told BBC Scotland he was surprised to receive a call from the Home Office a few weeks ago asking for permission to give the image to the president.
The street artist said: "It's a great honour and a massive global platform.
"To think it could potentially be hanging on a wall in the White House is fantastic and very exciting. It is a great accolade and acknowledgement."
The Edinburgh-born artist, who paints under the name TrenchOne, created the piece using emulsion brush and spray paint.
"When the community asked me to paint this mural I had heard nothing of Frederick Douglass and was shocked to hear how important his part was in the abolition of slavery," Mr Blair said.
Douglass was born into slavery in Maryland in 1818 but escaped to become a prominent abolitionist.
He toured the UK and Ireland in the 1840s as he campaigned against slavery.
The prime minister's gift is a nod to the Black Lives Matter movement that has pushed race relations to the fore in both countries.
Biden cited Douglass in a 2020 speech on race at a time when the country was confronting questions on contemporary and historical racial injustice sparked by the protest movement.
First Lady Jill Biden was given a first edition of Daphne du Maurier's The Apple Tree during the meeting in Cornwall.
Downing Street said the choice was to reflect Du Maurier's Cornish links - she lived in the county and drew inspiration for many of her works from the surroundings.
Carrie Johnson, who married the prime minister two weeks ago, received a leather tote bag made by military wives, and a presidential silk scarf.
Mr Biden presented Mr Johnson, a keen cyclist, with a US-made bicycle and helmet.