Scotland's drugs deaths: 'I want my son's funeral to be a drug death warning'
By David Cowan
Home affairs correspondent, BBC Scotland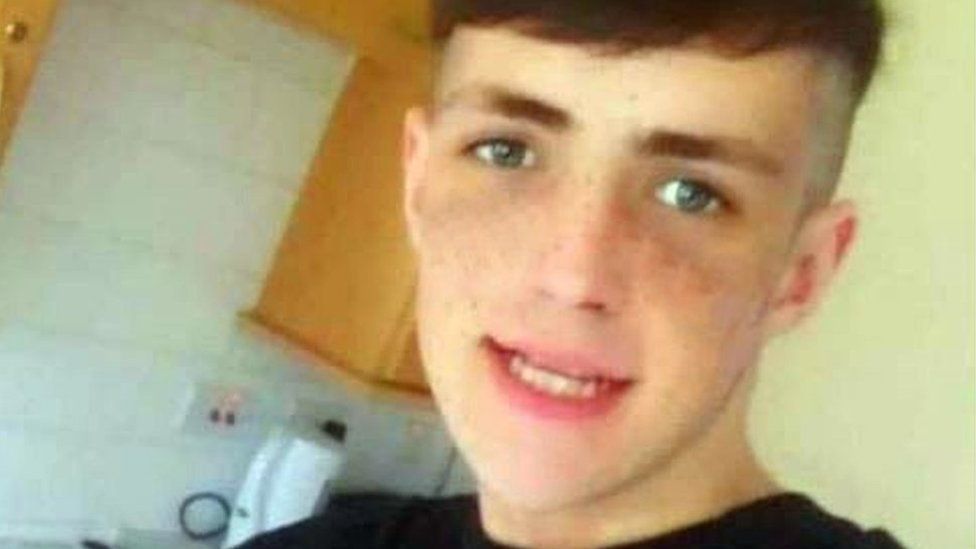 Three weeks ago Nathan Hadlow died after taking street Valium. His mum, Tracy, allowed BBC Scotland to film his funeral in the hope his story will serve as a warning to others.
When Tracy Hadlow's son Nathan died from an overdose at the age of 20, she decided she didn't want him to become just another anonymous number in Scotland's annual drugs death toll.
The NHS clinical support worker who's been on the frontline in the fight against Covid allowed the BBC to film his funeral.
She hopes the sight of Nathan's coffin will serve as a warning to other young people and their parents and persuade politicians to do more to tackle what's been described as Scotland's national disgrace.
Drug support workers say there are no signs the death toll has been slowing down.
Speaking at her home in Livingston, West Lothian, Tracy recalled a mischievous, popular young boy who became a loving but troubled teenager.
She says Nathan had long standing difficulties with his mental health and first received counselling when he was just seven years old.
"I didn't expect his life to end at 20 but I knew he was on a really dark path the last six months," she said.
"Throughout all of this, he would always say he loved me and give me a hug. He was a caring son but he was also a nightmare.
"If I put him out one day, he'd rock up the next day and say sorry. Some days he turned up here and I didn't know what planet he was on, he was so spaced out.
"The Saturday before he died I know now that he'd taken street Valium that whole weekend."
Tracy says Nathan started experimenting with pills and alcohol when he was 13.
"He was bored," she said. "For Nathan it was all about fun, he was having the time of his life out there, and it took years to progress to the dangers of drugs. They were so easily accessible, at the school gates, everywhere."
Tracy says she had to order Nathan out of the family home when he was 16. He served time in prison but lapsed back into his old lifestyle as soon as he was released.
"When he came out of Polmont, he just went back to the life he knew before. He was the sort of person who needed support, taken by the hand to go and access support. When Covid hit, his mental health really suffered."
On 16 March, Tracy came home after a 12 hour hospital shift. She went to bed and was woken by the police. They told her Nathan had died in a friend's house.
"I was shaking. I just couldn't believe it. The police had been at my door so many times before, woke me up so many times before and it was never to tell me that.
"We're all completely devastated. It's just the fact we're never going to see him again.
"My son and my daughter and I went to see him at the funeral parlour on Easter Sunday and spent time with him saying goodbye. And when I walked out the room, I knew I'm never going to see him again."
Tracey invited Aidan Martin to speak at her son's funeral. Aidan is a former drug user turned community activist and author.
Covid regulations meant only 17 people were listening in the crematorium chapel but Aidan's words will strike a chord with thousands round the country.
"People who die from drugs-related deaths are not junkies," he told the mourners. "Not a waste of space. They are someone's family member. Someone's friend. Someone's neighbour.
"His mum told me that he didn't always engage well with services. That sometimes his choices caused his loved ones pain.
"But in West Lothian we have no rehabs or recovery houses. We have no safe consumptions rooms where drugs can be taken safely by people who are still struggling to come off.
"In fact we lack so many services that could have saved his life and are being used successfully in other countries.
"This young man should still be here. He could have grown to be anything he wanted to be if he had the right interventions at the right times in our society."
Nathan's coffin was purple, his favourite colour when he was a young boy.
"Somebody needs to do something," said Tracy. "There needs to be more services out there for people like him. There needs to be more help and understanding and no judgement.
"I'm hoping that people understand my pain, that people look at their own kids, talk to them more, listen to them more, that parents have a better understanding of how mental health and drugs can rip your life apart."