Covid: Father seeks legal action over child quarantine
By Debbie Jackson
BBC Scotland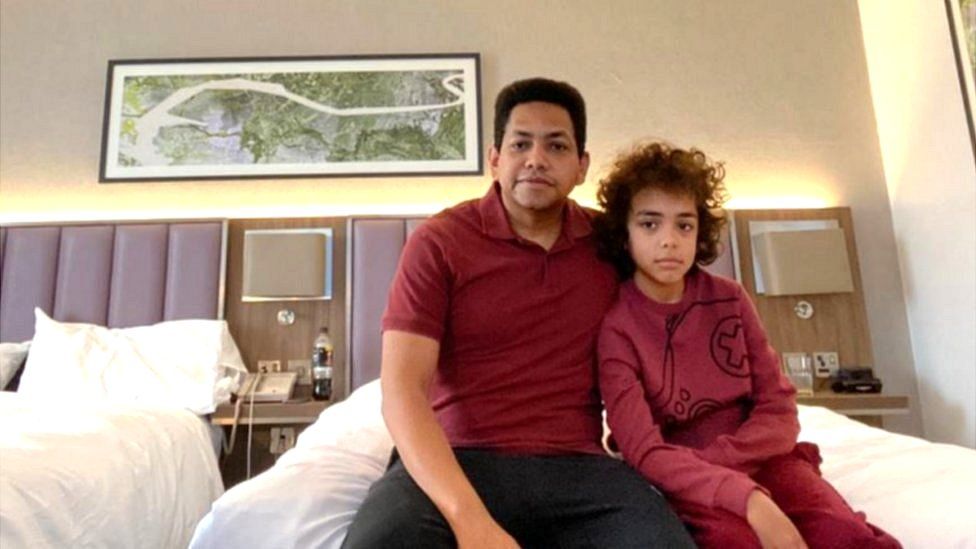 An Edinburgh father is seeking legal advice over the Scottish government's managed quarantine scheme.
Antonio Caraballo believes hotel quarantine rules will prevent children who live abroad from being able to visit a parent in Scotland.
His 10-year-old son Sami arrived in Edinburgh from Finland in February, and it was expected he would isolate at his father's home.
But Mr Caraballo ended up having to isolate with Sami at an airport hotel.
Now he believes that forcing unaccompanied children to quarantine is affecting their rights to have access to their parents.
The Scottish government said that children had to enter managed isolation and exemptions had to be restricted for the policy to work.
Despite Mr Caraballo's efforts to appeal the process, the pair had to remain in isolation until they were allowed to leave on Wednesday morning.
Sami, who lives in Finland with his mother, had just three full days left of his school break to spend with his father and sister.
Mr Caraballo, a specialist engineer working on the Forties pipeline, is a key worker and therefore exempt from having to go through managed isolation if he travels and returns back into Scotland.
But he had to pay £2,400 to go through the hotel procedure with his son.
He told BBC Scotland the decision to bring Sami to Scotland was made for his son's mental wellbeing. Having had a Christmas visit cancelled due to rising infection rates, it meant Sami had not been in Scotland since last summer. He also missed his three-year-old sister Amelia.
Mr Caraballo wants clarity on the travel rules because he believes they will affect future visits.
'As close to jail as you can imagine'
He said: "I believe the Scottish government is not only "not getting it right" but has double standards when it comes to children's wellbeing during the pandemic."
He described the pair's stay at the airport hotel as "as close to jail as you can imagine".
He said: "The food is dropped at the front of the door in paper bags and then they knock on the door. And the food is very poor quality.
"Because the hotel was so busy, we had to wait two-and-a-half hours to go for the 15-minute walk.
"When you go out, there are people in the corridors - it's a really risky environment. We didn't go out for the last two days just because it did not feel safe.
"When I asked Sami to sum up his hotel quarantine experience, his answer was 'horrible'. "
The Caraballos are now reunited at their Marchmont home in Edinburgh and Sami was finally able to enjoy his Christmas dinner with his Scottish family.
When Sami returns to Finland on Saturday, his father will be seeking further advice.
Mr Caraballo said: "I am looking to try to get some legal advice to what my options are. I want the clarity going forward and I am absolutely sure we are not the only ones in this situation.
"We are privileged that we can afford to pay the quarantine but for many people the whole idea of having to pay this money is going to keep families separated."
Mr Caraballo's wife Rachel, a charge nurse with the child and adolescent mental health service in Edinburgh, has written to Children's Minister Maree Todd, asking her to create a more human approach and "take into account the right to family life".
Speaking about her stepson, she said: "Having his freedom taken away means he cannot be a responsible and included child here in Scotland, a country that prides itself on getting it right for every child."
Ian Murray, Labour MP for Edinburgh South, previously sent an urgent letter to the first minister and transport secretary on behalf of the family, calling for a review of the case on compassionate grounds.
He said: "The Scottish government should have had the decency to respond when people ask legitimate questions about a hastily-arranged policy.
"There was clearly no attempt to find a compassionate solution in this case.
"The quarantine policy is still a mess and getting any answers on behalf of constituents is proving near impossible."
A Scottish government spokeswoman said there were currently 212 people in managed isolation in Scotland.
She said: "We understand how difficult this is for families with children, but to manage the risk of importing new variants and to give vaccine deployment the best chance of bringing us closer to normality these limits on international travel are necessary.
"The clinical advice is clear that a comprehensive system of managed quarantine is essential to minimise the impact of new Covid-19 variants.
"This means children must enter managed isolation regardless of whether they have arrived in Scotland accompanied or unaccompanied by an adult. We must restrict how many exemptions are in place otherwise the policy will not be effective."