NHS Lothian staff 'worried' as Covid ward already full
Hospital staff in one of Scotland's Covid hotspots have shared a sense of foreboding over what they will face in the coming months.
NHS Lothian has one of the highest rates of positive tests with more than 1,000 new cases in the past week - and hospital admissions are rising dramatically.
The main Covid ward is already full at St John's Hospital in Livingston and space is having to be created elsewhere.
Staff say the hospital is under "extreme pressure" and that coping with a second wave will be worse than the first, knowing the heartbreak that will inevitably follow.
"It's difficult to prepare yourself for," said Kyrstine Hendry, a senior charge nurse on the hospital's dedicated Covid ward.
"We saw patients coming in in extreme distress. We've seen the detrimental effects that had on some families, some patients that we had in the initial outbreak.
"Now we're having to relive that and it's been hard on the staff."
Ms Hendry and her team have been focused not only on swiftly treating virus symptoms, but on making sure their patients have adequate support systems and regular contact with family.
Not all the patients are in the older age groups or considered vulnerable. Callum Welsh, 26, thought he "just had a bug" but ended up needing hospital treatment as his symptoms worsened and he struggled to breathe.
Staff meanwhile have reduced their "social bubbles" due to the risk of exposure on the ward - and often carry the weight of the virus with them outside of the hospital.
It was a completely different experience to step back onto a Covid ward this week. In the spring all but urgent work was suspended.
It meant beds and wards were empty, ready to cope with an influx of patients. That was a strange site to see, but this time round it felt almost like business as usual walking into the front door of St John's.
The hospital is busy. Over the summer staff have been trying to scale-up the regular work that they do. They have less capacity with beds in some wards removed to ensure social distancing, and it can mean finding space for patients any day of the week is a challenge.
But once again they are having to find a way. A constant and complex reorganisation of wards and workforce and bed space. The staff tell me it is really hard to be back to this situation. They say they will cope because they have to, but they desperately hope things do not get any worse.
"It's hard not to bite back sometimes if you see people sharing vehicles or taking masks off in the supermarket," she said.
"Sometimes I find that quite distressing. I don't want to be put at risk just because [people] don't believe what's going on out there at the moment.
"This is real and it's heartbreaking for some families."
When hospital admissions for the virus first began to climb early on in the pandemic, many hospitals including St John's suspended many of their scheduled services.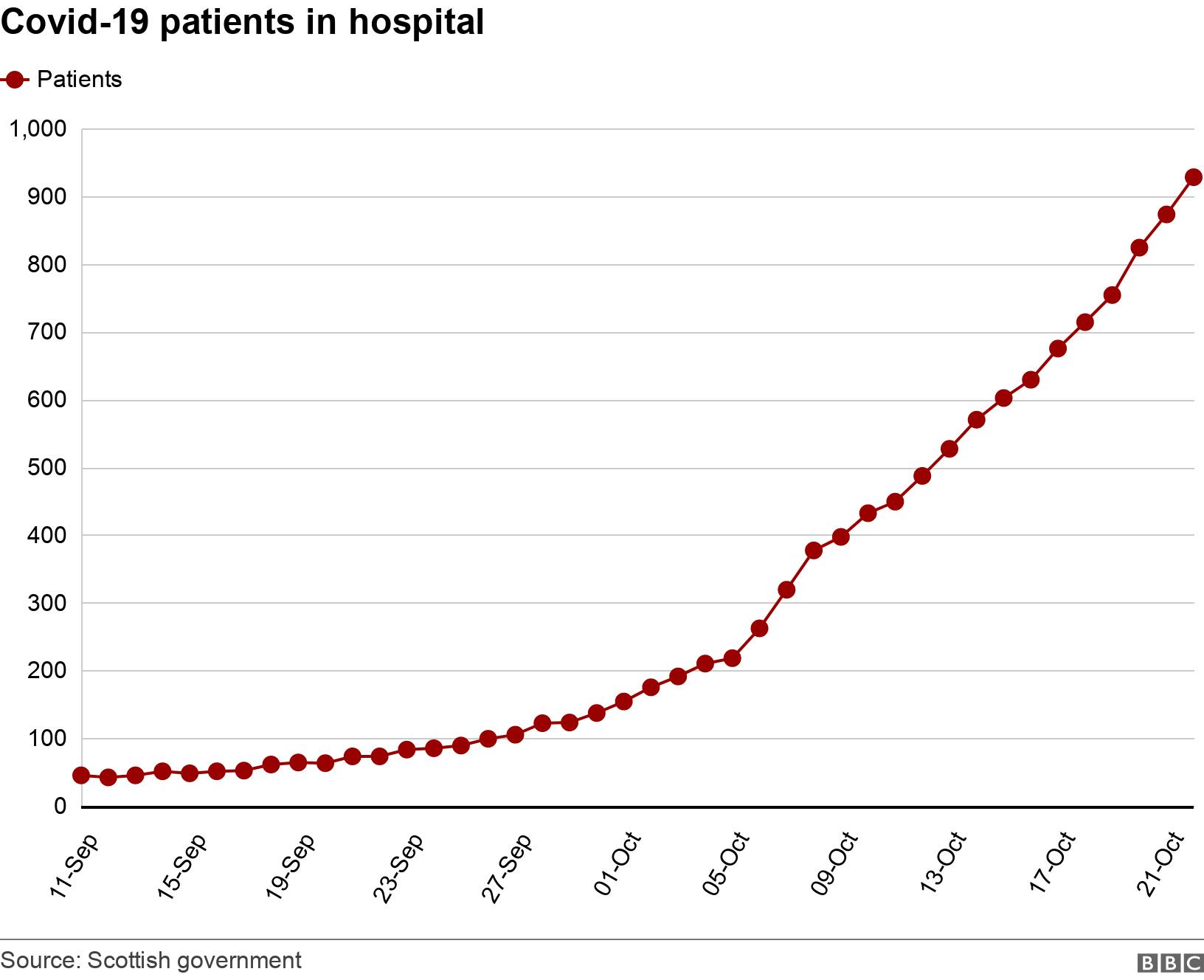 Now the hospital is functioning for patients with other illnesses as well as delivering emergency care - staff say they can see between 150-180 patients per day, with emergency cases between 30-45.
But with Covid admissions on the rise again, space is becoming a concern.
St John's clinical director Dr Karen Adamson said: "We had one ward that we used for coronavirus in our first wave and that is now full meaning that we are having to look at different spaces to utilise for our coronavirus patients.
"[I'm] pretty worried because this time around we have winter on the horizon, we've got flu, we've got norovirus and we are trying really hard to keep all of our regular activity going alongside looking after all of our coronavirus patients."
On 19 September NHS Lothian had just five Covid patients in hospitals - a figure that had increased to 74 one month later, on Monday.
West Lothian in particular is seeing higher rates of coronavirus than other parts of the health board.
Associate nurse director Agnes Ritchie shared concerns the hospital was under "extreme pressure" to deliver care to a community that was already suffering.
'Please, please wear a mask'
She said: "Unfortunately we do see a lot of social deprivation within West Lothian. In the last ten days I would say we've seen a dramatic rise in Covid presentations.
"There are a lot of people that are very scared and anxious and I can understand that. I would ask that if your condition could be dealt with by a pharmacist or a GP in the first instance, please try and avoid coming to the hospital if you don't need to come to an area that's already under extreme pressure.
"My message is please, please wear your mask, wash your hands and socially distance - help the hospital to help you."