'Dark Satanic mill' blacksmiths find new home
By Angie Brown
BBC Scotland News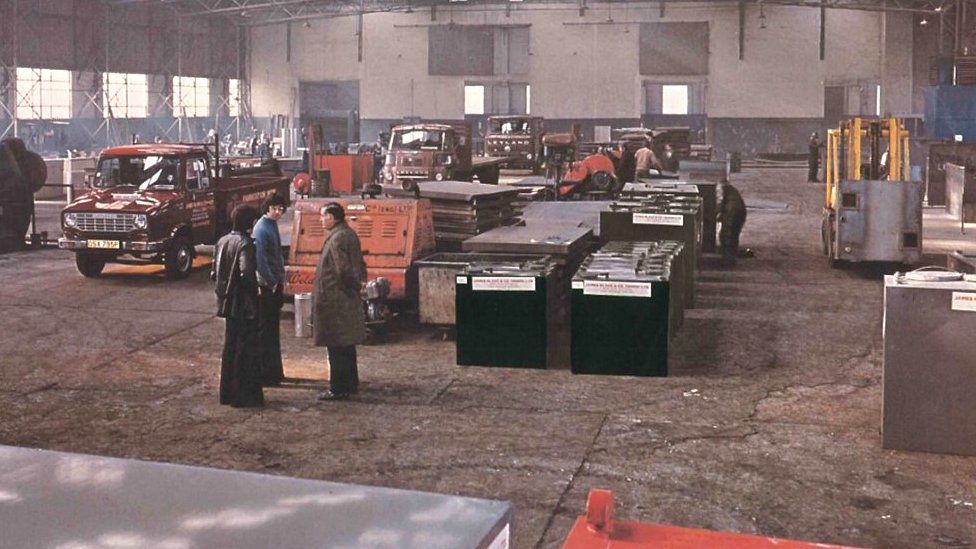 Ronnie Blake started looking for a new home for his family-run blacksmith factory more than 10 years ago.
His premises, an old World War II aircraft hangar, which had been dismantled at East Fortune airfield in East Lothian and brought to Leith in the 1940s, had become so dilapidated rain would pour through the roof and wind would howl through holes in its walls.
It got so bad he dubbed it the dark Satanic mill and promised his 30-strong workforce he would find a new home for them.
However, try as he might, he was unable to find a suitable place big enough to accommodate the 82-year-old business.
So they plodded on, stopping up holes and catching rain water in buckets while hoping to find a new site.
The 71-year-old said: "We looked at fixing the roof but the cost was so expensive it was going to be a seven figure sum, which 10 years ago was just so horrendous we couldn't afford it.
"So we put up a big plastic sheet in the ceiling to catch the rain, which would then divert the water outside the building.
"It was a temporary measure but we ended up there for so much longer than we thought that it became dark from all the welding fumes and dirt.
"It meant it was dark in there and it was cold so I started calling it the dark Satanic mill.
"I bought large heaters but it is an acre in size so all that happened was the pound notes went through the roof and didn't heat the guys on the factory floor."
Then earlier this year Mr Blake finally found a factory on the outskirts of Edinburgh at Gogarburn and sold his two acre site to a housing company, which plans to raze the hangar to the ground to make way for 150 homes.
Mr Blake said: "Then Covid hit and it was a worry if we were going to be able to relocate in time for the builder's deadline of 30 September.
"All the staff were furloughed and it was a tough time making sure we would be able to relocate in time as the clock was ticking.
"We managed it and now we have a clean, dry and warm new home and I couldn't be happier as my late father would have said 'Well done for keeping the business going'."
Mr Blake's father, James, started the business in the Citadel, just off Commercial Street, in 1938 after borrowing £20 from a friend.
He then employed his father who was also a blacksmith to work there during the day, and James would work there at night after his shift on the railways.
He expanded and moved into the big hanger on South Fort Street in the 1950s.
Mr Blake said: "My dad worked very hard there and the only time my parents went on holiday abroad was to Paris in September 1939. I remember always working there too in my school holidays.
"It was a great place in its day.
"It was huge and had a high ceiling, which is ideal for manufacturing big steel items.
"The hangar was ideal for years and years until it got into a bad state of disrepair.
"I want to thank all the workforce for putting up with the hangar latterly."
The new factory is located at West Craigs Quarry on Turnhouse Road, behind the Maybury junction.
It will continue to provide all steelworks services through its metal centre, fabrications and tanks departments.
Tom Chisholm, 74, who has been working at Blake's for 50 years as a welder, said he was happy to move.
He said: "Leith was a busy, bustling and loud place when I first started out but all the industry that was there has all disappeared and been replaced with houses.
"We used to use local suppliers that used the port to receive the materials for us but now it will come by lorry to our new site.
"I got very bored during the lockdown so I'm very glad to be back at work and have no plans to retire yet.
"You have to keep working your brain to stave off dementia."
Related Internet Links
The BBC is not responsible for the content of external sites.