The Scottish streets and monuments built on the slave trade
By Mary McCool
BBC Scotland news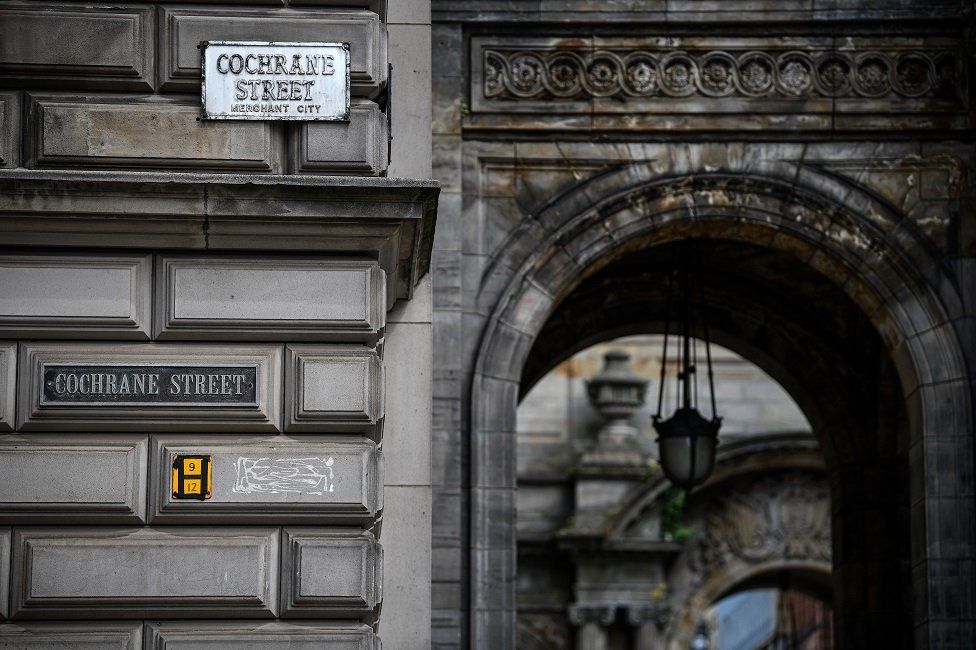 The wealth which flowed into Scotland from the slave trade is marked on the landscape. During the 18th century, money lined the pockets of the so-called "Tobacco Lords" who lived in mansions and dressed like royals. But what of these men - like Dundas, Buchanan, Cochrane and Glassford - whose names adorn the streets of Scotland's cities?
Melville Monument, Edinburgh
The 150ft Melville Monument in St Andrew Square honours 18th Century politician Henry Dundas, who delayed the abolition of the slave trade.
Dundas, 1st Viscount Melville, put forward an amendment to a bill which would abolish slavery in 1792, opting for a more "gradualist approach".
This allowed the practice to continue for a further 15 years - resulting in some 630,000 slaves having to wait more than a decade for their freedom.
The now A-listed monument honouring him was erected in 1823.
Also on St Andrew Square is the former Royal Bank of Scotland's headquarters, Dundas House, which was the original home of Lawrence Dundas - cousin to Henry Dundas who owned plantations in Grenada and Dominica.
The statue outside the building commemorates John Hope, the 4th Earl of Hopetoun, who was vice governor of the bank for a time.
While serving in the British forces in the West Indies, he helped put an end to a two year slave revolution, which resulted in the trade continuing for almost another 40 years in Grenada.
Bute House, the official residence of the first minister, has many links to the slave trade.
It was home to John Innes Crawford who inherited his father's estates in Jamaica including the Bellfield sugar plantation and several hundred people who were considered part of the property.
Later Sir John Sinclair of Ulbster - an MP - lived in the residence. Like many others, he claimed compensation for the loss of hundreds of enslaved people after the abolition.
Glasgow's streets are littered with references to the slave trade from the profiteers (Oswald Street, Cochrane Street, Glassford Street and Wilson Street) to the geography - Jamaica Street, Virginia Street and Tobago Street.
But one of the most well known streets in the city is named after Andrew Buchanan of Drumpellier, who served as Lord Provost and owned plantations in Virginia.
His former estate - Drumpellier House - is located near Coatbridge.
Following protests around the UK calling for an end to the glorification of slave traders, Barclays confirmed it will drop his name from a major riverside development which was marketed as Buchanan Wharf.
Gallery of Modern Art, Glasgow
Many slave traders' mansions and churches were laid out near what is now Merchant City.
The Gallery of Modern Art was one of them, home to William Cunninghame of Lainshaw who made a fortune through the tobacco and sugar trades.
He conducted his business from the city mansion but enjoyed leisure time in his country estate at Lainshaw near Stewarton.
Remove, rename or reword?
Efforts to add a plaque to Edinburgh's Melville Monument - spearheaded by Prof Geoff Palmer of Heriot-Watt University - have so far been delayed for about two years.
Sir Geoff, Scotland's first black professor, has previously argued that Edinburgh's economic transformation at the end of the 18th Century was a result of slave ownership and that Scotland had a higher share of the trade by population than England or most other European countries.
Following Black Lives Matter protests over the weekend, graffiti appeared on Edinburgh's Melville Monument, with "BLM" and "George Floyd" written at the base.
Permission to add the Dundas plaque has now been granted from owners and it is hoped wording will be agreed on Tuesday.
Council leader Adam McVey told BBC Scotland he would feel "no sense of loss" if the statue was removed altogether, but that a clarification would help people understand the "shameful" parts of Edinburgh's history.