Giant curtain to block view of Princes Street Gardens concerts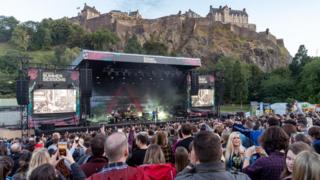 Concerts in Edinburgh's Princes Street Gardens will be shielded from public view by a "giant curtain" during performances this summer.
Last year, a row erupted after boards were erected to stop people without tickets gathering on Princes Street to watch the Summer Sessions.
The boards were removed and a section of pavement was closed instead.
This year organisers will use curtain-type screens which will only be closed during performances.
Organisers DF Concerts said they could be deployed "quickly and easily", allowing access to Princes Street Gardens during the day while also maintaining public safety during the shows.
The council's public safety manager, John McNeil, said a significant number of people had tried to congregate on Princes Street to watch the concerts when there were no screens.
"It results in us having to close the road and put the trams off," he said.
However, the introduction of fixed boards last year led to complaints that they spoilt the view of Edinburgh Castle.
Scott Arthur, Labour councillor for Edinburgh's Colinton and Fairmilehead ward, questioned whether the curtain would also be an eyesore.
"This is going to be detrimental to the view of the castle from Princes Street," he said.
Mr Arthur said the proposals for this year's summer sessions would see a larger area of Princes Street Gardens being closed to the public.
'Giant curtain'
However, Archie McIvor, speaking on behalf of DF Concerts, said the screening was necessary "for safety reasons".
"It was not there to stop people seeing the concert for nothing," he said.
"The type of screening this year is more of a giant curtain operation - it's pulled back like a giant curtain.
"The curtain will be supervised so it remains closed when it should be."
The city council's licensing sub-committee agreed a temporary public entertainment application for the concerts.
This year's Summer Sessions will take place in August, with headliners including Chvrches, Lewis Capaldi, Florence and the Machine and Primal Scream.
A spokesperson for DF said: "External perimeter screening is essential for managing public safety on the surrounding streets as the concerts could grab the attention of passers-by on Princes Street, causing them to congregate.
"This screening is a requirement set out by City of Edinburgh Council's safety advisory group and is a condition of our licence approval process."