'Suspicious item' found near mosque in Edinburgh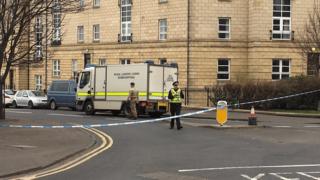 A controlled explosion has been carried out after a "suspicious item" was discovered opposite Annandale mosque in Edinburgh.
The alarm was raised at about 11:50 after the discovery in Annandale Street, to the east of the city centre.
Bomb disposal experts from the Royal Logistic Corps used a robotic vehicle to carry out a controlled explosion on the item.
It was later established that the item did not to pose any risk to the public.
After the explosion, members of the bomb disposal team, wearing black protective clothing, were seen scouring the area around the robotic vehicle with torches.
Nearby houses and a funeral director's premises had been evacuated but the street was reopened at about 16:30.
A Police Scotland spokeswoman said: "Police in Edinburgh were called to Annandale Street around 11.50am following a report of a suspicious item.
"A cordon was established as precaution while explosive ordnance disposal carried out an assessment of this item.
"The item was found not to pose any risk to the public and the community are thanked for their co-operation.
"Inquiries continue to establish the full circumstances surrounding this item."