Dunblane woman's anger at plans for gun shop next to school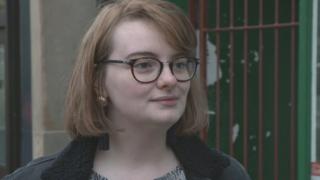 The sister of one of the children who died in the Dunblane school shooting has hit out at plans for a gun shop close to an Edinburgh primary school.
Catherine Wilson said it was "disrespectful".
Ms Wilson's sister Mhairi was among 16 children and their teacher murdered by gunman Thomas Hamilton in March 1996.
The Edinburgh shop owner has defended his plans, saying they meet UK gun regulations, which are among the strictest in the world.
Following the Dunblane shooting, UK gun laws were tightened to restrict ownership of powerful handguns.
Proximity
Ms Wilson, who now lives in Edinburgh, was a baby when her five-year-old sister Mhairi MacBeath was shot dead by Hamilton at her primary school.
She is concerned about the proximity of the gun shop to the primary school.
"I don't think we should have children walking up and down to school... seeing guns as part of every day life."
She said: "To put a gun shop near a school in Scotland only 20 or so years after Dunblane happened, only 40 miles away from Dunblane, and not consider the ramifications of that, I think that's disrespectful."
She added: "Dunblane should not just be viewed as a part of history, Dunblane was not a one-off day tragedy... It's still affecting people."
"My prime issue with this gun shop is its location and the fact that there are children playing however many yards away."
The shop unit, which was previously Harmonious and Healthy Chinese Clinic, has been taken over by Edinburgh Rifles and Sporting Goods.
Their application for a firearm dealership licence on Comiston Road is being considered by Police Scotland.
If granted, all firearms would be held in a vault and guns could not be displayed in the window.
Shop owner Ed Bewsher, one of 365 registered firearms dealers in Scotland, said shooting as a sport was being stigmatised.
'Grey area'
He said: "It's a culture that doesn't necessarily go around shouting about it because of the public opinion that people have and the stigma associated with it."
He believes the public do not appreciate how much stricter the UK's gun laws are than the laws of the US.
Mr Bewsher added: "I think, unfortunately, the majority of public opinion from people who don't know anyone who shoots is based on media from the US.
"They have the same image in their mind - of automatic weapons and pistols."
Local MSP Daniel Johnson said it highlighted a gap in Scotland's planning and licensing legislation.
He said: "I think it raises something of a grey area in the law.
"The police regulate the individual who trades as a firearms dealer but have no say over the location.
"And as far as local authorities are concerned this is just another shop under planning and licensing regulations.
"I think that raises a question over whether we have a right to say how and where these shops locate."