Charity questions homeless law-breaking by Edinburgh Council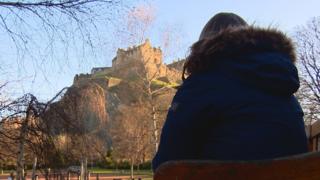 A charity has questioned if Edinburgh Council can cope with a homelessness problem that sees it breaking the law by placing families in temporary B&Bs for longer than the legal limit.
Councillors had promised to halt the practice months ago.
However, while there has been progress in reducing the numbers, continuing pressures on the capital's housing mean they cannot say when it will end.
B&Bs should only be used for families in an emergency for up to seven days.
---
Temporary B&B accommodation in Edinburgh
Number of homeless families accommodated in B&Bs: Down from 120 in April to 31 in November.
Number of days in B&B accommodation for homeless families (total for the month): Down from 2004 in April to 471 in November.
Percentage B&B nights where homeless families accommodated: Down from 9.8% in April to 2.3% in November.
---
About two months ago a mother, who wishes to remain anonymous, became homeless after her relationship broke down.
With a teenage daughter to look after, a room in a bed and breakfast was her only option.
She told BBC Scotland: "There's nowhere to cook, there's nowhere to wash clothes and we share a bathroom with everyone else, it's not been cleaned in the four weeks that I've been here.
"There are CCTVs in the corridor, there's a curfew to abide by. I'm not allowed any visitors. This is more of a prison than it is a home."
She added: "It made my skin crawl and just made me feel so uncomfortable. I couldn't sleep properly.
"Obviously having a daughter, sharing a room with a 13-year-old is difficult because you have different bedtimes and you both want to do different things.
"It got to both of us and it did have a detrimental effect on my daughter as well, I mean she really struggled."
Miles away from school and work, the family spent five weeks in the temporary accommodation.
The mother said: "It's not fair to us to be left like that because that's essentially what they do. They stick you there and they forget about you."
Figures show in other large cities in Scotland, councils there have only broken the law a few times a year whereas Edinburgh has done so hundreds of times.
Alison Watson, deputy director of Shelter Scotland, said: "I think, bluntly, in Edinburgh there literally aren't enough homes to put people in.
"This is a very popular place to live. It's a very popular place for tourists to come to. It puts very acute pressures on the housing situation here in Edinburgh."
Affordable homes
City of Edinburgh Council said the solution to a complex problem lies in bricks and mortar.
It is aiming to build 20,000 affordable homes over the next decade.
More immediate measures include encouraging private landlords to lease extra properties and seeking the power to regulate the number of short-term lets.
They had promised to stop housing families in B&Bs six months ago.
Now, they are avoiding talk of deadlines but Kate Campbell, chairwoman of the city's homelessness task force, insists there has been progress.
She said: "Importantly, the length of time that families are spending in B&Bs has come down a huge amount.
"It was around six weeks for some of the worst cases we'd heard about and that's come down to under two. So that has made a difference. It's not good enough and we still have a lot of work to do."