Organised crime syndicate jailed for fraud and money laundering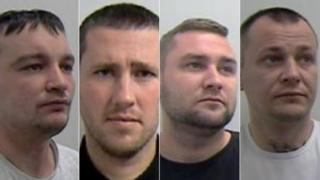 Four men who formed a "highly sophisticated" serious organised crime syndicate which specialised in money laundering and fraud have been jailed.
Arvids Civkors, 30, Maris Kursis, 30, Hardijs Langsteins, 37, and Aivars Dzagarjans, 38, were each sentenced to four years and 11 months in prison.
Prosecutors said they encouraged people to travel from Latvia to the UK, offering them travel, housing and work.
Once they arrived in the UK, they were told they were "in debt" to the gang.
The men were convicted of illegal activity between June 2012 and December 2016 following a 14 week trial which ended at Edinburgh Sheriff Court last month.
Civkors, from Edinburgh, Kursis, of Falkirk, Langsteins, from Salford, and Dzagarjans, from Northumberland, were acquitted of people trafficking charges.
Jurors were told that the men, who were all originally from Latvia, forced their victims to open bank accounts in their own names.
They then had to hand over their bank accounts and bank cards and were sent to work in various locations across the UK.
Victims exploited
The gang retained control over their earnings and any refusal to co-operate met with threats of violence and assaults.
Sentencing the men, Sheriff Welsh said: "The offences were highly sophisticated and were executed with meticulous precision.
"Given the impact it had on the individuals named on the indictment and the banking system in general, I conclude that there is no alternative to custody in the case."
The four men now face actions under the proceeds of crime act.
Det Ch Insp Stephen Healy, of Police Scotland, said: "We are pleased with the convictions and custodial sentences for members of this crime group, who exploited vulnerable victims for financial gain."
Jennifer Harrower, procurator fiscal for specialist casework, said: "Money laundering is not a victimless crime and Hardijs Langsteins and his gang played an integral role in a complex, large scale operation which facilitated the criminal activity of others.
"I hope that these convictions and the sentence, including the serious crime prevention orders granted for Langsteins and Kursis, send a strong message to others involved in this kind of criminal behaviour and demonstrates the ability of police and prosecutors to investigate, prepare and prosecute serious and organised crime of this nature."