Edinburgh council to consider green waste refunds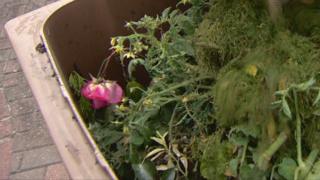 City of Edinburgh Council has agreed to investigate introducing a refund scheme for a controversial garden waste charge.
Council officers have received 8,000 complaints over missed collections since the new service was rolled out in October.
The new scheme allowed residents to sign up to green rubbish collections, for an annual £25 fee.
Council officers said the service should get back to normal by next week.
Kevin Lang, Liberal Democrat councillor for Almond ward, tabled a motion to full council calling for options to allow residents to get their money back if the service "falls below a certain standard".
Mr Lang hit out at residents having no method for a refund and claimed the SNP/Labour administration had folded to pressure in not having enough support to oppose his motion.
'More for less'
Mr Lang said: "It was bad enough that such a deeply unpopular policy as the garden tax was forced upon Edinburgh residents by SNP and Labour councillors.
"However, that situation has been made worse by the failures within the new collection system and the thousands of delayed or missed collections. People have literally ended up paying more for less."
He added: "It is wholly unfair that, despite these failures, residents are not able to get a partial or full refund for the money they have paid."
Conservatives backed the calls for a refund scheme, with the Tory transport and environment spokesman labelling the project " a complete and mitigated disaster".
'Right direction'
Earlier, Conservative group leader Iain Whyte asked council leader Adam McVey as to whether he still had confidence in his transport and environment convener, Lesley Macinnes, following problems rolling out the council's new waste collection rotas.
Mr McVey backed his SNP colleague and told councillors that missed bin collection complaints had fallen this week.
He said: "I'm not happy with the level of waste complaints - on Monday, complaints went down by around a quarter.
"We are heading in the right direction. We are seeing the service getting back on track, but I'm not happy with the level of performance and neither is the transport and environment convener."