Edinburgh Council in talks over future of hacked road signs
By Angie Brown
BBC Scotland, Edinburgh and East reporter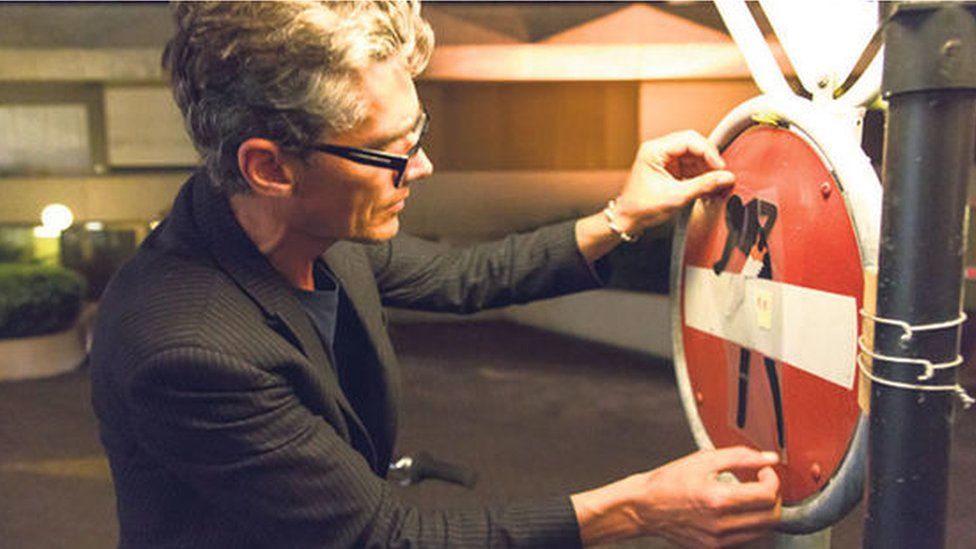 City of Edinburgh Council is in talks over the future of road signs that have been altered by art works in Edinburgh.
The signs were hacked by French artist Clet Abraham in March but no-one noticed for six months.
The council said it liked the signs and had contacted Mr Abraham. The council said it would "continue discussions over the coming days".
Mr Abraham said he had no opinion on what should be done with the signs beyond keeping them in the street.
The altered signs - including images of flowers and wine glasses - have been seen in South St David Street, Thistle Street and Union Street.
There are about 20 signs in Edinburgh that have been altered by the street artist using bespoke stickers.
Adam McVey, City of Edinburgh Council leader, said: "I've made contact with Clet Abraham directly and I'm looking forward to talking to him about what we might do with the street signs to ensure they can continue to be enjoyed.
"I'm keen to find a way forward that protects public art but also ensures our road signs are clear and enforceable. People are coming forward with some interesting ideas of how to achieve that and we'll be continuing these discussions in the coming days."
Mr Abraham told the BBC Scotland news website: "I understand the position of the council that it gives an example to others if they remove my work but I think the best choice is to leave the signs in the street.
"I think my work is good for safety as it makes people notice the signs, normally people don't have a relationship with signs.
"Therefore to say they are to be removed for legality is not a good reason, in my view, as my work makes people pay more attention to the signs."
The artist added: "Nobody was speaking about the signs in Edinburgh before my work.
"I'm a very peaceful person though so if the council says they have to go into a museum then I say ok as it's their decision.
"I think it is giving more importance to authority though than safety."
Related Internet Links
The BBC is not responsible for the content of external sites.