Edinburgh's Christmas generates £113m for economy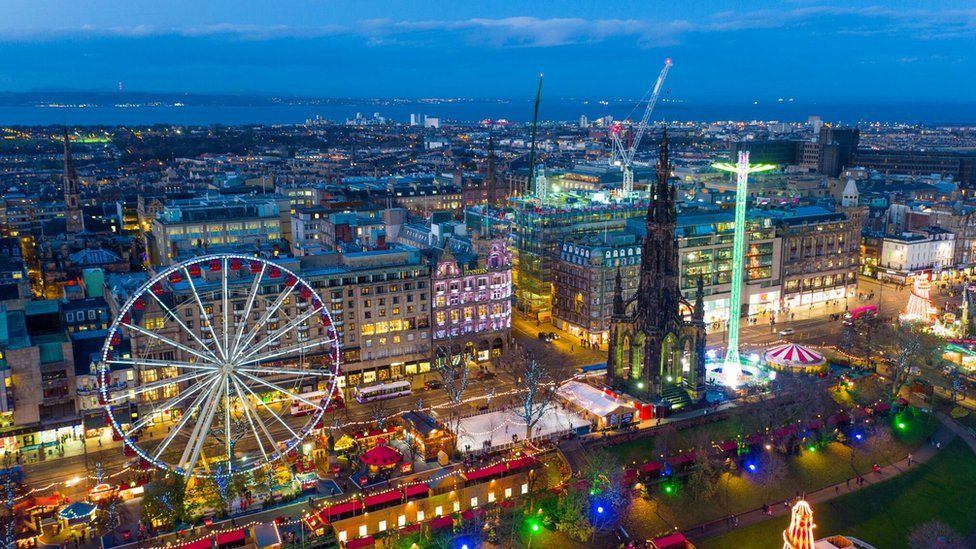 Edinburgh's Christmas generated £113m for the economy last year, according to research.
BOP Consulting said the Christmas events attracted 919,344 visitors over six weeks in 2017, up 3.7% from 886,651 in 2015.
In comparison, the combined total of visitors at all of Edinburgh's 12 festivals in 2015 was 1,070,954.
Lord Provost Frank Ross said the figures highlighted how valuable the attractions were to the city.
The report said a record-breaking 771, 007 tickets were snapped up for Edinburgh's Christmas rides, attractions and shows in 2017 - an 11.6% increase on 2016 when 690,878 tickets sold.
COP Consulting said the money generated over the Christmas period was equivalent to 2,260 full time jobs.
The economic impact for Scotland was calculated as £88.2m.
The most popular attraction and reason for coming to the festival was the Christmas Markets, which are known around the world and which 85% of people visited.
The Ice Rink was the next most popular which 49% of people visited. People visited an average of 2.9 paid attractions.
Retail sales from 2015 to 2017 show that during the Christmas period of November and December Edinburgh had bucked the trend with sales growth of 3.1% against the Scotland-wide (-0.2%) and UK (1.3%) trend.
71% of all people surveyed had visited Edinburgh's Christmas in previous years, an average of 6.6 times
65% of attendees came from outside Edinburgh and the Lothians
36% came from other parts of Scotland, 22% from the rest of the UK and 7% came from 47 other countries
64% of people said the festival was the main or only reason for visiting Edinburgh
Charlie Wood and Ed Bartlam, directors of Underbelly which produces Edinburgh's Christmas, said: "We're very proud that Edinburgh's Christmas is now firmly on the map as a global winter destination with sky-high levels of customer satisfaction and return visits, and visitors who consistently rate the event as their major reason for coming to Edinburgh.
"The research shows that the event supports thousands of jobs in the city but it's great to see how many residents also come and enjoy its attractions.
"This year, we're adding Silent Light, a significant new attraction which will raise funds for Edinburgh's One City Trust, dedicated to fighting inequality and exclusion in the city."
Lord Provost Frank Ross said: "There is no better place in the world to celebrate Christmas than here in Edinburgh and this report highlights just how valuable the attractions are to the city.
"As part of our Winter Festivals programme, Edinburgh's Christmas supports the staging of our Hogmanay celebrations, while bringing in an estimated economic impact of £113.2m. The events are clearly a huge draw for visitors, but they are also for and enjoyed by hundreds of thousands of local people.
"These findings are clearly good news for our city centre retailers and other businesses, for local jobs and for the wider economy."
John Donnelly, chief executive at Marketing Edinburgh, said: "The value that Edinburgh's Christmas brings to Scotland's capital is undeniable.
"The success of events such as Edinburgh's Christmas continues to position the city as a world-leading destination in which to live, work, study, visit and invest."
Related Internet Links
The BBC is not responsible for the content of external sites.