Hacked street signs in Edinburgh 'not noticed for six months'
By Angie Brown
BBC Scotland, Edinburgh and East reporter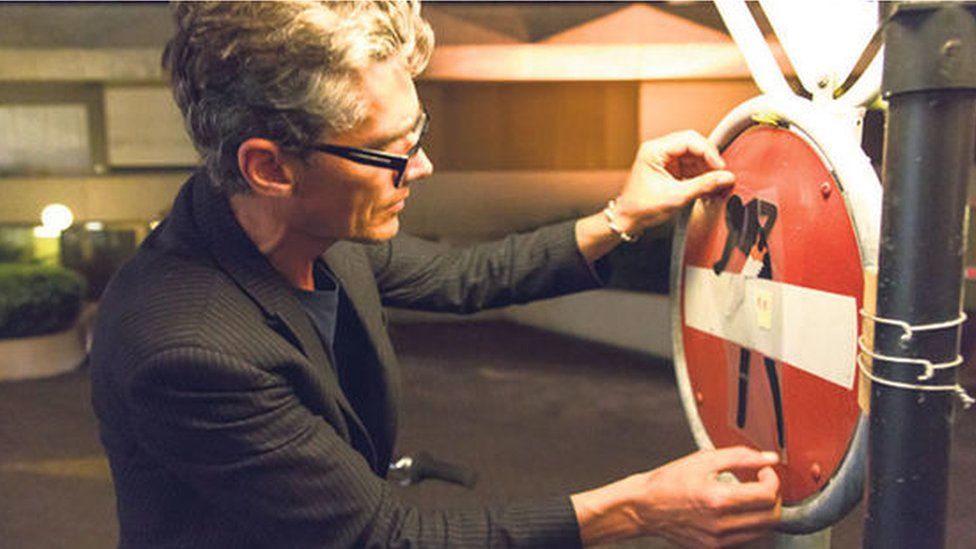 A street artist who hacked about 20 road signs in Edinburgh city centre said they had gone unnoticed for six months.
Frenchman Clet Abraham, 52, has confirmed he was the artist behind the altered signs including sumo wrestlers and wine glasses.
The fine art graduate said he thought people had not noticed his work because there were too many signs in the city.
He said he hoped they remained in the streets as they were for everyone.
Speaking from his home in Italy, Mr Abraham told the BBC Scotland news website it normally took about three months for people to notice his art work on road signs in other cities across the world.
He said: "I was in Edinburgh in March 2018 so it was very slow for there to be a voice about my work, I find it very funny.
"I think there are too many street signs in Edinburgh and so people don't like street signs and therefore they don't bother looking at them. It's very crazy and bureaucratic to have that many signs.
"I never cover more than about 10% of the sign as I don't want to disturb the meaning, which is very important to me.
"My work is about prohibition and therefore to cover the sign too much would mean it had lost its meaning.
"I'm against authority without discussion. While I'm not against signs they are a symbol of authority as they give an order."
Mr Abraham said he had also left his stamp on 10 signs in Glasgow.
He said he had picked Scotland because he had a cultural affinity with the country and its green landscape, and he singled out Edinburgh due to its "beautiful" architecture.
The artist takes between two days and two years to come up with each design before hand drawing it and then putting it onto a computer to make a sticker.
He has hacked signs all over the world and been arrested in Japan. He was caught by the police several times but has usually been allowed to carry on once he has explained to the police that he is "not a vandal".
He said: "I take care to do it at night and it doesn't take long as I've already made the stickers but yes I have been caught in Italy, London and Japan.
"My girlfriend is Japanese and when I was arrested I was banned from entering the country and she was banned from leaving the country for five months. It was the worst day of my life.
"I'm very respectful to the police and explain what I'm doing and usually they are cool."
He makes extra signs he then sells to private clients and buys the signs from councils who take them down. His signs sell for between £1,000 and £10,000.
He added: "I'm so pleased they haven't been removed in Edinburgh and I would feel it was a pity if they were taken down. They are in the street so everyone can see them."
So why not remain anonymous like his fellow street artist, Banksy?
He said: "I don't think I'm doing anything wrong so I don't need to remain a secret."
Related Internet Links
The BBC is not responsible for the content of external sites.