Street advertising boards banned in Edinburgh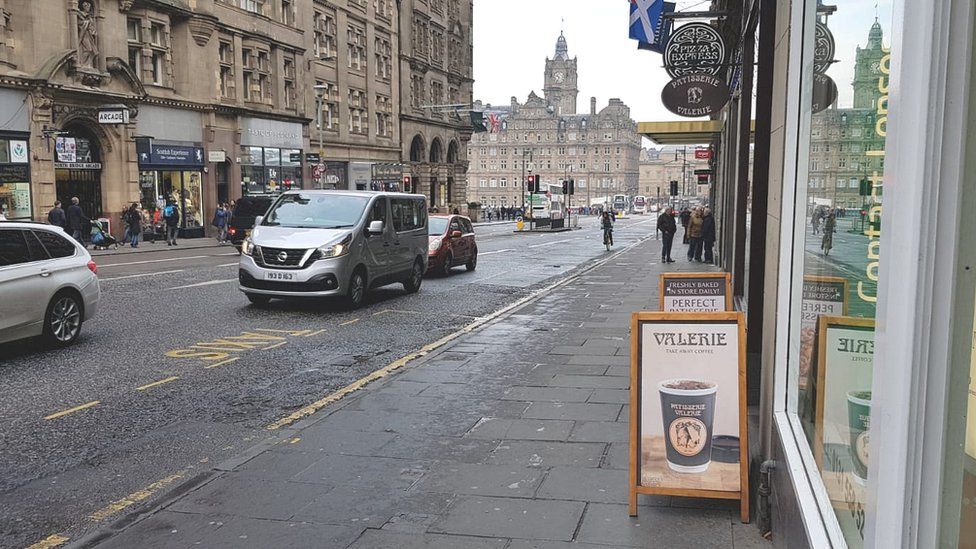 A citywide ban of on-street advertising boards has come into force in Edinburgh.
The ban, approved by city councillors in May, aims to create "safer, more accessible streets", particularly for those with disabilities such as sight impairment and mobility difficulties.
Environmental wardens will be used to make sure the ban is not flouted.
The council said enforcement action would be taken against those who ignore the rules.
Transport and environment convener Lesley Macinnes said: "This is ultimately about opening up our streets for all members of society, creating welcoming, clutter-free spaces where people can move freely.
"We've heard from lots of different groups about the mobility issues caused by the presence of temporary, moveable structures such as advertising boards, so it's clear that action needs to be taken if we are to live in a truly equal, accessible city."
The ban follows a public consultation with stakeholders, including Living Streets, Royal National Institute of Blind People (RNIB) and the Edinburgh Access Panel, along with traders' associations, Business Improvement Districts and community councils.
A spokesman for RNIB Scotland said: "We very much welcome this move by the City of Edinburgh Council to help make the streets of the capital more accessible to visually impaired people.
"A vital element for any successful 21st Century city must be inclusivity.
"A city that is open and welcoming to everyone, residents and visitors, no matter what needs or disabilities they may have. This move is a big step in that direction."
Related Internet Links
The BBC is not responsible for the content of external sites.