Phone-free concert hailed a success in Edinburgh's Usher Hall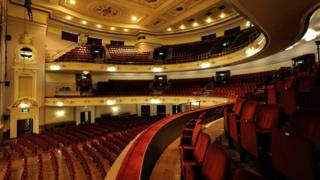 The manager of an Edinburgh venue is planning to hold phone-free events after staging a concert, banning mobiles, which was a success.
Jack White fans were asked to put their phones into lockable pouches during his show at the Usher Hall on Sunday.
Fans could carry the locked pouches but they would only open outwith the auditorium.
Karl Chapman, Usher Hall general manager, said the system was now in place to have future phone free events.
He added: "Phones have become a bit like the new cigarette lighter as there are so many of them being held in the air during a show.
"On the flip-side, bands like Coldplay and U2 use them creatively and can ask audiences to interact with the show through their phones.
"I really get where Jack White is coming from. For a lot of people mobile phones are quite annoying and if you're using a phone you're not actually watching the show. It must get pretty annoying for artists.
"It's the first time we've had anything like this with a pop or rock artist. It all went surprisingly well here.
"We were quite apprehensive about it. It's a complete social norm to use your phone at a gig.
"The feedback was very positive. Quite a few people said it was like rolling the clock back 20 years.
"I could definitely see us doing it again. These things are driven by artists. I'd imagine we will see a few requests coming forward having seen Jack White do it. The structures are in place now."