Gleneagles golf resort owners to open hotel in Edinburgh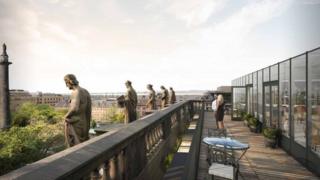 Plans to transform two Edinburgh buildings into Gleneagles' first hotel outside the Perthshire estate have been given the green light by councillors.
Developers of the famous golf estate, Ennismore, won the support of the city council's development control sub-committee to transform buildings at St Andrew Square into a 33-bedroom hotel.
The development will include a three-storey rear extension.
It will also have a bronze-cladded garden pavilion.
The project is the first expansion in the brand's 94-year history.
The former Bank of Scotland premises next to Dundas House, which closed its doors in 2016, will be transformed into Gleneagles' new venture.
The developers will also construct a glazed roof terrace, set back behind statues.
Neil Gardiner, City of Edinburgh Council's planning convener, had called for the scheme to be rejected due to the impact on the statues.
He said: "This is an important building in Edinburgh. I have some concern about the glass box that may obscure your view of the statues.
"It's a really fine building and I just wonder about that roof terrace compromising that bit of the public domain. There's a lot of work gone into matching the requirements of the planning department.
"I feel we need to protect our heritage and I'm going to move that we have to reject the application."
Max Mitchell, conservative councillor for the Inverleith ward, said: "We have seen some other examples of roof terraces in the New Town. This one has been slightly altered with a sympathetic design.
"I don't think it would be appropriate to refuse."
Joanna Mowat, conservative councillor for city centre ward, said: "I'm satisfied that the impact would be insignificant enough to give permission.
"The heritage gain, having one of the finest rooms in Edinburgh, the banking hall, open, is a huge, huge win for the city.
"That minor negative impact, I can live with, because the gains are greater."