Murder accused offered to help with ex-fiancee's funeral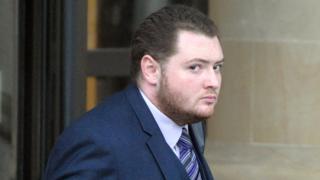 A man accused of murdering his ex-fiancee contacted her parents to "help arrange" her funeral, a court heard.
Frazer Neil, 25, sent a Facebook message while on bail for the killing of 21-year-old Hannah Dorans.
Ms Dorans' father told the court the accused claimed to have discussed death with his daughter and "knew what she would want".
Mr Neil denies raping and strangling Ms Dorans at a flat in Hutchison Road, Edinburgh, on 11 February last year.
The jury was told the couple met while they were both first aid volunteers.
Ms Dorans' father Keith, 49, said her dream was to become a paramedic.
He recalled how his daughter went on to leave the family home in Dalkeith, Midlothian, to live with Neil in the capital.
Mr Dorans said: "Near the end we were lucky if we saw her once a month. If Hannah was there, Frazer was there."
But, in late January 2017, Ms Dorans appeared at her parents' home one morning.
Her father said it seemed as if she had fallen out with Mr Neil and had "had enough".
It was suggested the final straw had been a glamping holiday Mr Neil had arranged that she was not happy about.
'Controlling' behaviour
Mr Dorans claimed his daughter had found out about Mr Neil's apparently "controlling" behaviour including blocking friends on social media.
Prosecutor Alex Prentice QC asked if Ms Dorans appeared upset.
But her father replied: "Relief. There was a hint of embarrassment at coming home, but I think she was delighted at being free."
He recalled the last time he saw his daughter was the day before she was allegedly murdered.
She was working a night shift that evening at a private hospital where she was a care assistant.
Facebook notification
Mr Dorans later found out from police about her death. The taxi driver went on to learn Neil had been charged with her murder.
Mr Dorans then explained: "A few days later a big long message came from Frazer explaining that he wanted to help us arrange Hannah's funeral.
"They had discussed death and he claimed he knew what she would want.
"This was while he was on bail. Police had told us that he could not get in touch or come near us."
Ms Dorans' mother Moira, 49, often became tearful during her testimony.
Mr Prentice asked what her reaction was when she saw the message.
Mrs Dorans: "I saw it was from Frazer...I just went numb."
The prosecutor: "Did you invite Frazer Neil to contact you?"
She replied: "No."
The trial, before Lady Scott, continues.