Male childcare worker tells of stigma facing men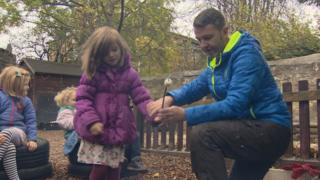 Men who choose a career in childcare often face an additional hurdle to their female colleagues - the stigma of being a man working with young children.
Unsurprisingly, males are underrepresented - recent figures suggest that men make up less than 5% of the childcare workforce.
Paul Archibald is one of the few. He began his career working in "early years" - children ranging from birth to five years old.
He remembers too well the challenges he faced starting out.
"I came in as a young single man, and then I got married so I became safe," he recalls.
"Then I had kids so I became even safer, then my children came to the nursery - so absolutely fine. But I think there is still that stigma and it's about breaking that stigma."
Years on, Paul is still working in childcare and encourages other men to follow him in his career choice.
He is now the general manager of Highland Fling in Portobello, Edinburgh - a nursery where men account for more than 30% of its workforce, far above the national average.
He believes parents find the diversity of staff "comforting" but attitudes still need to change.
"A lot of people think we just play all day, but it's about giving children the building blocks to go on and learn - we look at it as a practical job. We are giving them the building blocks for life.
"It's a career. It's not just coming in and doing some painting and going home - there are opportunities."
Although enjoyable work, he admits it can be exhausting
"It's going to be a full-moon tonight, so I'll be exhausted by the end of the day. With 10-15 years experience, mark my words - a full-moon affects the behaviour of children", he joked.
The Scottish government has now announced a £50,000 fund aimed to increase the number of males enrolling in childhood practice courses.
Patricia Chisholm, who owns Highland Fling nursery welcomed the effort as "a start". However, she warned that work needs to be done on culture to stop new male recruits being disappointed when they enter the job market.
She said: "Children benefit from having a range of people around them, and in this day there are a few broken families, so I think it's really important that they have access to men as well as women".
Children's Minister Marie Todd told BBC Scotland: "There is undoubtedly a culture that this is seen as women's work, and we are very keen to change that because we know it will be beneficial to the children.
"There have historically been some concerns about men who are interested in working with small children, that's much less of a concern nowadays, we have lots of safeguards in place to make sure it's perfectly comfortable for everybody to work in the workforce".