Man jailed for trying to set Scottish Parliament building alight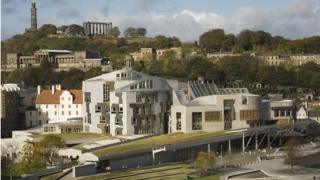 A man who sprayed part of the Scottish parliament building with barbecue fluid has been jailed for 30 months.
Piotr Swiatek took out a lighter before being challenged by a police officer outside Holyrood, then pulled out a knife.
His actions caused a "major security alert" on Saturday 24 March.
Swiatek was found guilty of attempted fire raising, possession of two knives and causing fear and alarm, following a trial at Edinburgh Sheriff Court.
Sheriff Gordon Liddle sentenced him to 30 months imprisonment and a 12-month supervision order.
In a sentencing statement, Sheriff Liddle said: "You caused a major security alert.
"There was no way the authorities could know whether they were dealing with a terrorist incident.
"I am sure that members of the public, at that very busy place on a Saturday, were alarmed."
Security personnel
The sheriff said part of Edinburgh's Royal Mile was closed as a result of the incident, adding "many security personnel were involved in the aftermath before an all clear could be given".
Referring to evidence given by a police officer who witnessed the incident close to one of the windows at the parliament building, Sheriff Liddle said: "Although you maintained in your evidence there was no ignition, it was his evidence that he saw you ignite the fluid on the ground.
"He said it lit but did not spread to the window."
He continued: "That courageous officer then left the building and challenged you. You drew a knife and raised it above your head.
"He immediately tackled you to the ground and the knife was dropped. He was told soon after by another to beware of the other knife tucked into your trouser waistband."
Sheriff Liddle said such "dangerous and cavalier" behaviour was unacceptable.
Swiatek was also banned from driving for 38 months and fined £900 after previously admitting a separate charge of drink driving.
He was found to be almost three times over the legal limit on an earlier date.