Edinburgh residents and businesses consulted on 'tourist tax'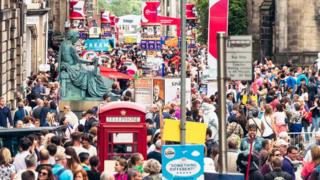 A citywide consultation on plans to introduce a "tourist tax" to Edinburgh has begun.
The City of Edinburgh Council has suggested that the levy could raise £11m a year, to be spent on growing tourism and managing its impact.
It proposes charging either 2% or £2 per room, per night, to all guests in all forms of accommodation.
Now it wants to hear the views of the tourism sector, businesses, investors, visitors and residents in the capital.
The tax - or "transient visitor levy" (TVL) - would be charged all year round but it would be capped at seven nights.
The council wants to know what people think of the scheme - and what they think the income should be spent on.
An online consultation will last for eight weeks, while industry representatives, investors and residents will be invited to a series of workshops.
Council officers have also offered to attend board meetings, membership meetings and one-to-ones with people in the tourism industry.
Opponents to the scheme have previously criticised the plans and claim there has been no "meaningful engagement" with the tourism industry.
Earlier this month, First Minister Nicola Sturgeon told leaders of the Scottish Tourism Alliance that she wanted a "national discussion and conversation" on the issue.
Council leader Adam McVey said he wrote to the Scottish government to welcome the move.
He said: "The first minister's announcement was welcome in that their work will provide a national context for our proposals, adding to the detailed engagement we have already carried out as well as the citywide public consultation we are embarking upon today.
"We have always acknowledged the need for legislation in taking this forward but we as a council have also maintained the need to develop our own plans to make sure it's not just any TVL but the right TVL for Edinburgh, taking account of our local circumstances.
"Our plans have been developed through engagement with the industry and we see this consultation, alongside the Scottish government's, as a way of further co-producing a scheme that works best for the city and our stakeholders.
"We are very much listening to everyone involved around what they believe is a fair, simple and workable policy."