'My autistic son was unlawfully excluded from school'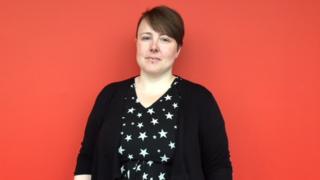 When 18-year-old Aidan was surprised by a teacher at school last December, he lashed out.
An autistic teenager, his mother said he was understandably startled when the woman put her head through a gap in a screen.
He didn't have a meltdown, he was not angry but his reaction lead to his exclusion from the additional support needs school where he was a pupil.
He was excluded for three days last December but when his family tried to take him back, they were told there was no longer a place for him.
His mother, Debbie, told BBC Radio Scotland that they won an appeal against the exclusion.
But Aidan was never able to return to school and the rest of the family was put under almost unbearable pressure.
Debbie said: "Aidan's anxieties were increased because he kept asking when he was going back to school and I didn't have any answers.
"They kept saying 'After the Christmas holidays we'll put something in place'. By the time we got to after the Christmas holidays, we were desperate.
"I was having to be with Aidan every day, I wasn't getting a break and I asked if he could go back one of two days a week - anything, I was so desperate - and they said no."
The Scottish government said it was committed to reducing exclusion rates among children with additional support needs.
All school exclusions must be formally recorded but autism charities say too many children are being "informally excluded" without recording it.
Official guidance states that it must be used as a "last resort" and as an opportunity to re-evaluate the child's needs and any support they required.
Carla Manini Rowden, of The National Autistic Society, said children should continue to receive an education while they are excluded.
"We do know there is good autism practice out there but unfortunately Aidan's story is not uncommon," she said.
Walk in the park
Debbie said Aidan had enjoyed school but last year he was moved to a different class and he eventually ended up in seclusion.
It meant he spent entire days separated from his peers and it led to a deterioration in his mental health.
She said two personal assistants who were employed to help Aidan were not allowed to take him out to do activities that he enjoyed.
"He was distressed, he didn't understand why he couldn't be with his old class," Debbie said.
"He didn't understand why he had to stay in that room every day and why he wasn't allowed out to do the things that he enjoyed, like swimming.
"Even just walking - he would have been delighted to be allowed out for a walk in a local country park but he wasn't allowed even to do that."
After he lashed out the teacher who took him by surprise, he was excluded.
"Aidan reacted by saying her name and doing an open-handed little lash-out. He got excluded for that.
"There was no meltdown, there was no anger in that, he just reacted to being startled. He has autism, he wasn't expecting to see someone."
Debbie said the experience following Aidan's exclusion was "exhausting" but she wanted to ensure he lives a good life.
'Brighter future'
He is now supported by an organisation called C-Change Scotland, which is ensuring he is "really blossoming".
"It's a great relief for all of us," Debbie said.
She added: "They are helping him get his confidence up, be healthier and be happier. I can really feel that they are all about giving him a good life. I can see a brighter future.
"We felt rejected and isolated and now I feel there is a good chance Aidan can have a good life. "
A Scottish government spokesman said: "We recognise that children and young people with additional support needs are at a higher risk of exclusion, and we are committed to taking steps to reduce this. However, we are clear that the use of informal exclusions is unacceptable and should never be used.
"Our refreshed exclusion guidance 'Included Engaged and Involved Part 2' has a renewed focus on prevention, early intervention and response to individual need in line with the principles of Getting it Right For Every Child.
"The guidance sets out clearly that there are additional factors that need to be considered when a child or young person has an additional support need."
'Special arrangements'
The council which runs the school which Aidan said it followed Scottish government guidance and it was not appropriate to discuss individual cases.
A spokesman said: "We are committed to supporting all our children with additional support needs (ASN), such as autism, to remain in school and achieve their full potential where possible.
"It can be very challenging to provide appropriate education and care for the growing number of children with ASN, and our dedicated school teams strive to offer the best support possible to all our ASN pupils.
"However, we also have a duty to ensure the safety of other pupils and our staff as a priority. This can involve putting special arrangements in place for the protection of an individual pupil and the rest of the school community."