Bike hire scheme launched in Edinburgh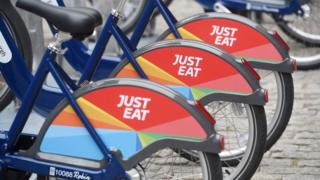 Edinburgh's new bike hire scheme has been officially launched.
An initial 200 bikes will be available to rent and they can be picked up and dropped off at various docking stations around the city.
Users will be able to hire bikes through an annual membership, on a daily basis, or for up to an hour using a smartphone app - with single journeys starting from £1.50.
It follows the success of similar schemes in London and Glasgow.
The aim is to boost access to local education and employment opportunities and health and leisure services by providing and "a fun, healthy, affordable and environmentally-friendly" transport option.
The capital's hire scheme is being operated by Secro on behalf of Transport for Edinburgh (TfE).
The first locations to host the bikes include Bristo Square, Waverley Bridge, Fountainbridge, Stockbridge and Charlotte Square.
Further hire points will be added as part of a rolling three-year programme, which aims to deliver 1,000 bikes by the end of this year.
Launching the scheme at the Meadows on Monday morning, endurance cyclist Mark Beaumont, who has tested the bikes, said: "They're really robust. They've managed to make the gearing a lot lower which means for the hills of Edinburgh you can still stay on the bike and pedal up them. The smaller wheels make them quite easy to handle so as a bike rider I think they're really well made.
"I think the convenience and practicalities of these things mean that people are outside and are enjoying our beautiful city."
Council leader Adam McVey said: "It's to provide a quick, convenient, easy and cheap way for people to use active travel and give us another strand of public transport.
"With so many tenements people are sometimes reluctant to buy their own bikes because they've got no storage facilities, so this is aimed at providing a sensible alternative that people can use.
"We've put them really strategically across the city - so they're where people live, they're where people work."
Other cities already have bike schemes, but some like Manchester - where people did not have to return bikes to a docking station - experienced a high level of theft and vandalism.
However, Matt McNulty from Serco said they had learned from other experiences and come up with a design which suited Edinburgh.
"It's really easy to use and all we need to register you is your phone number and your credit card," he said.
"All you do then is press one button and the system will tell you which bike to take.
"Indications are it does get people back on bikes and encourages active travel and just gets people fitter and happier."