Fife Council faces £32m budget gap in next three years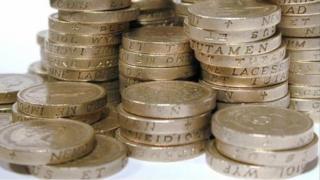 Fife Council is facing a £32m budget gap by 2022, councillors have heard.
Councillors at the policy and co-ordination committee were told the authority will have a massive shortfall by the financial year 2021/22.
In the next financial year, it is facing a £9.4m hole and will have to consider making savings of 5% every financial year to cope.
The biggest pressures on budgets are education and children's services (48% or £406.7m).
This is followed by health and social care (17% or £143.3m) and loan charges (8% or £64.8m).
It leaves the council with just £229.7m - 27% of its budget - to maintain services for every other area, such as environment and communities.
Usable reserves
A report before the committee also proposed increasing council tax by the maximum amount of 3% every financial year to generate more income.
Councillors raised concerns about the relatively low number of reserves held - the second lowest percentage of usable reserves in comparison with all other Scottish authorities.
However, councillor David Ross, co-leader, said: "We have had discussion around this level of balances.
"Other local authorities may not have dealt with with scale of equal pay yet, as we have, so they may have funds set aside for that, making the reserve look bigger.
"It's good to hold some things off for a rainy day - well it's raining now.
"Our balance has been reduced by £6m this year, so it makes it right to hold on to a small amount of reserves so services aren't being cut but there is still funding for unforeseen problems."
Eileen Rowand, Fife Council's executive director for finance and corporate services said: "We have just over 3% in reserves - guidelines state we should hold between 2% and 4%, so we are within that.
"Being second lowest just means that other councils are holding onto more money."
The budget will be set at the end of February, when many services will be faced with making savings.