Man who abused four partners in Fife is jailed for seven years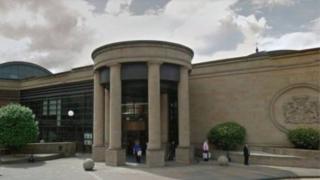 A man who physically abused four of his partners over a six-year period has been jailed for seven years.
Jason Hynds, 27, throttled two of his victims to the danger of their lives and assaulted two others.
The High Court in Glasgow heard the offences were committed at various addresses in Fife between August 2011 and July 2017.
Judge Lord Woolman ordered Hynds to be monitored in the community for four years after his release.
He told Hynds: "Four of your victims were your former partners. At the start, each relationship went well, but then you began to show your true nature.
"You were jealous and controlling and you also assaulted two people - including the mother of one of your victims- when they tried to intervene."
High risk
One of Hynds' victims said he had put her "at rock bottom" and that she became "afraid of my own shadow".
Lord Woolman said that the background report on Hynds, who drank two litres of vodka a day, made "depressing reading".
He added: "You have little insight into what you did and pose a high risk to members of the public.
"You conducted a campaign of serious abuse against these women."
Hynds was cleared of four charges of rape.