Man admits raping sleeping woman in Edinburgh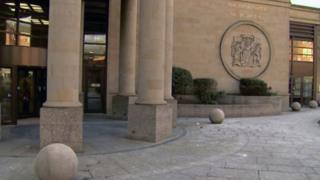 An IT boss filmed himself raping a woman in Edinburgh after dressing her in different underwear as she slept.
Adrian Mickels, 43, regularly abused the woman at his £1m home in Ravelston.
Police were alerted after the woman told a friend what happened.
Mickels pleaded guilty at the High Court in Glasgow to rape between 2011 and 2016 .
He was remanded in custody pending sentencing next month.
A judge heard how the victim was "disgusted" after discovering footage on Mickels' laptop of him having sex with her.
The court heard the woman was regularly in Mickels' company during the period the attacks took place, but did not "feel comfortable" about confronting him at the time.
Last year she revealed to a friend that she had been raped, prompting a police investigation.
She told officers she recalled waking up to find Mickels having sex with her on about 10 occasions.
Prosecutor Owen Mullan said she had discovered "intimate" photographs of her on Mickels' laptop, wearing underwear that she did not recognise.
Mr Mullan went on: "She realised she had been asleep and Mickels had dressed her up then taken photos of her."
The woman also discovered a clip of him having sex with her as she slept in the same underwear.
The advocate depute said that when she challenged him about the pictures, she struggled to take in his "lack of remorse".
Mr Mullan said about 40 video files were found showing "a range of conduct".
Footage had been recorded from a "fixed camera position" as well as from a "hand held device".
Lord Matthews deferred sentencing for reports.