Forth bridges toilets an 'utter disgrace'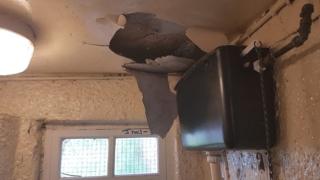 Toilets that greet tourists when they disembark from boats at South Queensferry have been labelled an "utter disgrace".
It comes amid Edinburgh City Council backing a strategy to showcase the Forth Bridges to the world.
The City of Edinburgh Council's culture and communities committee gave the tourism strategy by the Forth Bridges Forum the green light.
It aims to make attractions a magnet for visitors over the next decade.
However, local councillors have called for investment to upgrade the public toilets at Hawes Pier to improve the standard of facilities.
Kevin Lang, Liberal Democrat councillor, said: "These public toilets at the Hawes Pier are a utter disgrace.
"It is embarrassing to think these facilities could be the very first impression which international visitors get of Queensferry and Scotland when they arrive.
"For all the grand talk of Queensferry as a world class destination and the production of colourful strategy documents, the council is still not getting the basics right.
"Almost £270,000 is now raised every year from international cruise liner visits. There is an overwhelming case for the council using just some of that money to renovate and upgrade these toilets."
Graham Hutchison, conservative councillor, said: "The anchorage at Queensferry rivals any, anywhere in the world, but the facilities for incoming cruise passengers are possibly the worst I have seen anywhere.
"We really need to up our game here. We need to make sure that the first impression that people get when they come off the cruise ship, is not this - that can't be people's first impression of Edinburgh and Scotland."
The plans to transform North and South Queensferry into a destination include a new visitor welcome hub and the use of augmented and virtual reality technologies to immerse visitors in the back story of the iconic bridges.
The creation of vantage photo points, free Wi-Fi for the area and a strong year-round events calendar have also been proposed.
Donald Wilson, Edinburgh's culture and communities convener, said: "Queensferry has been a popular destination for many years as people love to see the iconic Forth Bridges up close.
"This strategy looks to build on that popularity and the unique engineering heritage of these three bridges over three centuries.
"If successful, it could turn visitor interest into economic benefit, boosting local jobs and coastal tourism in the process.
"Obviously, a lot of consideration still needs to be given to the various ideas contained within the report, not least the response of residents and workers in North and South Queensferry and we'll be working with our neighbours in Fife so the whole area benefits."