Flats plan gets green light at former Edinburgh school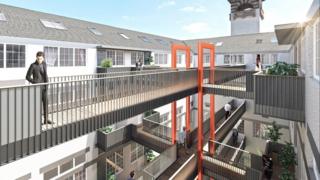 Proposals to transform a former Edinburgh high school into housing have been approved despite worries over transport and affordable housing.
Cala Homes is to transform the former Boroughmuir High School on Viewforth into more than 100 homes.
The plan was passed the city council's development management sub-committee.
There will be 17 affordable homes, 98 car parking spaces on the former playground and 223 cycle spaces.
A "community sum" paid by the developers will mean more affordable homes will be provided at another site.
Hal Osler, councillor for the Inverleith ward, was "deeply concerned" over the affordable housing proposals, which include one and two-bedroom properties.
'Isn't exactly bonnie'
However, Councillor Joanna Mowat, for the city centre ward, said the developers had responded to the initial proposals being rejected.
She said: "The previous application did provide the affordable housing on site but was rejected because of the impact. That's why we don't have all the affordable housing on site."
Councillor Chas Booth, for the Leith ward, said the affordable housing block "isn't exactly bonnie" while Councillor Denis Dixon added that it "doesn't enhance the area".
Councillors touted whether on-street parking could be reduced to encourage residents to consider walking and cycling.
However, Ms Mowat said that arrangement would be "unfair on people already living there".
She said: "It will have a very negative impact on existing residents. It will just cause a major headache."
The development will create 87 split-level apartments in the former school classroom block.
Gavin Pope, land director of Cala Homes (East), said: "We're extremely pleased that the careful process of community consultation and close work with planning officers has come to fruition.
"We appreciate that no development will be universally popular, however, this design solution represents the outcome of a lot of hard work to update our proposal in line with responses to our planning application."
Melanie Main, councillor for Morningside, wanted Cala to provide more on-site affordable housing as part of the scheme.
She said: "I am disappointed to see that the opportunity to provide more affordable housing in the area has not been taken.
"The council needs to have really firm policies on how much affordable housing is needed and how it should be provided in an integrated way and it needs to be prepared to stick to those policies.
"So I think the developer could, and should, have been pushed harder on affordable housing and I am grateful to those members of the committee who made that case."